Chudovo received honors for support IT education
Chudovo received honors for taking an active part in supporting young minds. Our company is grateful for the chance to be involved in charitable program. During three years we contributed to children's education in IT area. It's important to embed software development skills from an early age as best it consulting companies are always looking for the experts with analytical thinking. In September has finally started the 4th school year for the young team. Girls and boys from needy families continue learning the basics of software development.
Main competences that have been acquired in 2019/2020 school year
In the first semester the group got acquainted with Python. In fact, it is a powerful programming language that is easy to learn. Children gained knowledge about the basic syntax of Python and its constructs. Programming language uses a simple object-oriented programming approach and has efficient high-level data structures.
One of the subjects of study, that will be definitely useful for future programmers, was IT English. Furthermore, it covered topics such as algorithmization; OOP;  operating systems; interfaces software; common info about VCSs GIT, Javascript; how does Internet work (protocols, principles, standards); QA & Testing; Blockchain & Cryptocurrency; IoT; Artificial Intelligence
The second semester started with a new Unity3D course. Children gained basic knowledge about 3D modeling on the example of Blender 3D. Among main learned topics are to mention introduction to 3D modeling; simple objects and operations; editing mode and its tools; camera settings and lighting; physical properties; modifiers; creation of skeleton for an object; creation and customization of animation; overlay textures. In other words, the young team got acquainted with the basic principles and technology of creating modern three-dimensional computer games. Children started with creation of their own full-fledged games.
Of course, covid-19 quarantine restrictions forced the group to change the educational model and to switch to remote mode at the end of the semester.
New school year – new challenges
In September has started a new school year. Accordingly classes were resumed and children continued to attend IT courses. New and interesting program has been prepared by custom software development company for the young team. We are looking forward to see the progress and results of each child in the group. Chudovo is happy to be a part of the program for growing the next generation with smart young minds.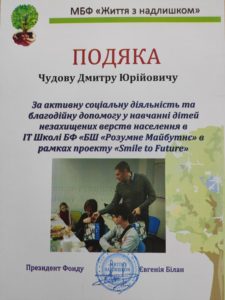 Talk to us
Let's talk about your project!
We will contact you as soon as possible