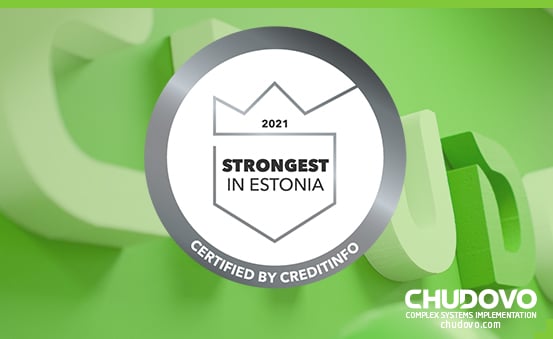 Chudovo OÜ awarded 'Strongest in Estonia 2021' with credit rating AA
Table of contents
The AA credit rating recipients are the companies that have a proven track record of financial stability and adept business operational framework. Provided by CreditInfo in Estonia, this year, Chudovo has been awarded the prestigious "Strongest in Estonia " award with an AA credit rating certificate. With this rating, the company is recognized as an Industrious Estonian Company, implying that it is fit to work in the Estonian market.
Chudovo is a software development company with an international presence and offices in London, New York, Kyiv, Cologne, and Tallinn. The company provides services to companies across the globe and holds expertise in logistics, medicine, telecommunication, finance, and video security solutions development. Getting the Strongest in Estonia 2021 Award with a AA rating means Chudovo has shown incredible performance in the previous years and has grown substantially. Let's get into the details of receiving an AA rating in Estonia.
What is an AA Credit Rating?
What is a good credit rating? A good credit rating means that a company is growing and has a low risk in the industry. Credit rating helps investors and shareholders understand the position of the company they want to invest in vis-a-vis the market. There are grades or classes of credit ratings accorded by CreditInfo, one of the most authentic credit rating provisioning agencies in Estonia. This institution identifies the company's growth, market position, scope, performance, among other factors, to provide a credit score rating. AA credit rating means that the company is in excellent condition and has low business risk in the market. Credit rating agencies like CreditInfo are vital instruments to help people and economy specialists understand the performance of companies running in the country.
Not just companies but countries also receive a credit rating from international institutions like Standards and Poor's, Moody's, Fitch, etc. Standards and Poor' credit rating for Estonia is AA- as of August 2021.
What Does AA Credit Rating Means For Companies?
CreditInfo administers the credit rating to companies based on three major factors;
Economic situation;
Financial situation;
Rating of payment habits.
The economic situation is further influenced by the company size, market size, activity, competition, development, and operational efficiency. A higher rating means that a company has got better results in all these aspects than its competitors. The financial situation is self-explanatory. It includes aspects like liquidity, self-financing, indebtedness, etc. Under rating of payment habits, CreditInfo judges the company on its debts to tax and customs board, hidden declarations, and payment defaults.
So, an AA rating for a company in Estonia means that the company is adept in all these matters and has a financially strong foundation to build a fortune. It shows that the company has a good economic condition and positive financial indicators and complies with the payment discipline. The AA credit rating is awarded to only 6.8% of the companies in the country. The best part is that CreditInfo associates its rating system with international standards. So, every rating is authentic and effective on a global level.
Chudovo OÜ awarded 'Strongest in Estonia 2021'
In 2021, Chudovo was awarded with the Strongest in Estonia designation with a AA rating from CreditInfo. Getting this rating from one of the topmost credit rating agencies in the country is highly beneficial for this software development company. The AA rating is given to the companies that have shown a good economic and financial performance in the country. Due to the rating received in the country, Chudovo has received international recognition, propelling the company at par with the top-rated software development companies.
Only a handful of companies receive the "Strongest in Estonia" certificate. This certificate is evidence that Chudovo has a good business credit rating, and it is fit to work as per the most authentic Estonian business standards. Along with giving good credit scores, the AA awarded company is known for its contribution to the Estonian economy and enhancing honest business standards. This credit rating is also a sign of trustworthiness and comes attached with a sense of security for establishing good business relationships.

Conclusion
Credit rating agencies are known to provide certifications to companies and their operational methods based on some set parameters. In Estonia, CreditInfo recognizes and administers these ratings to all types of companies contributing to the development of the Estonian economy. Chudovo has bagged the Strongest in Estonia certificate along with an AA credit rating. This AA awarded company deals in software development. With a strong credit rating, Chudovo has proven to be a major player in Estonia, helping the country's economy expand and grow.
Talk to us
Let's talk about your project!
We will contact you as soon as possible