Ukraine's IT industry by the numbers
How many IT specialists does Ukraine have and how much do they make? Which developers are in most demand?
The founder of a Ukrainian job search site reported his findings on the state of the IT industry and what to expect in the next year at this year's IDCEE conference, an annual conference on Internet technologies and innovations in Central and Eastern Europe.
Where do Ukrainian developers work?
According findings, there are now 75,000 developers in Ukraine. From them, 15,000 work in large companies. 45% of developers live in Kiev, 18% live in Kharkov and 9.3% live in Lviv. The next largest IT-oriented cities are Dnepropetrovsk and Odessa.
The majority of Ukrainian IT specialists work in the outsourcing industry. The second most common employer is product companies. Start-ups employ about 4.5% of the country's developers. The graph on the right shows the break-down of employers by type, where ODC stands for Offshore Dedicated Center, where companies set-up their own dedicated development office and hire local talent for cost efficiency.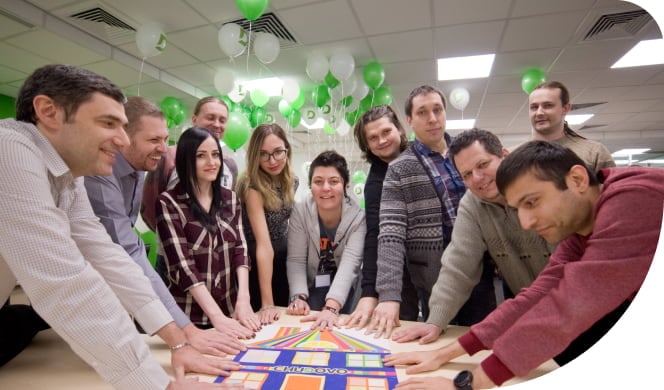 Looking for a new challenge?
Who is the average developer?
The average age of Ukrainian developers is 27 years old. This is a 2 year increase from 2011. The average length of time working in the IT industry is 1-3 years. The majority of the specialists have a higher education degree and understand English.
The IT job market in Ukraine
The demand is highest for specialists working with enterprise, web and mobile development. Employers have a preference for experienced developers. The graph on the left shows the number of IT specialists hired based on their expertise. Despite the crisis, the number of job vacancies remained the same. Yet, the number of applicants has increased with an average of two specialists per job posting. Furthermore, the number of people that want to work in the IT industry has noticeably increased. For example, one of IT learning centers in Ukraine received 1400 applications for 80 spots, while an open position for a junior developer currently has an average of 20 applicants.
Predictions for Ukraine's IT market in 2015
The development of IT in the next year depends on two factors – internal and external. The demand for Ukrainian IT specialists will depend on US and European market growth. If the development continues, the industry will continue to grow, with more companies opening and more job vacancies. Otherwise, the number and growth will likely decrease. The other factor is the conflict in the East of the country. If the situation stabilizes, companies will be able to secure more contracts.
Talk to us
Let's talk about your project!
We will contact you as soon as possible