Designing Medical Websites that Drive Engagement and Trust: 23 Best Practices and Tips in 2023
Just like every other industry, the medical and healthcare industry requires a great deal of technology and use of the internet to not only increase their market demographics but also amplify and provide better health treatment to patients. With the help of technologies and the introduction of websites (through the internet), the treatment process can be made easy, seamless, and faster. But how so?
The trend these days covers healthcare centres and medical clinics exploring the use of the Internet to bring their services closer and more easily accessible to their prospective clients and clientele. It even goes further to bring information regarding health, treatments, proactive measures, and proper care through blogs, articles, newsletters, and the like to clients or patients. Therefore, the need for medical clinic website design to be on point and accurate rises.
Without a proper design serving the purpose of educating, informing and enlightening clients, the healthcare website design defeats its purpose and importance. This subjects medical website developers to have a detailed, structured, and intentional outline that can drive engagement and improve the trust of clients in the brand's medical clinic website. Web design for healthcare systems must be carefully curated and this article will emphasize the best practices and tips in 2023 that would help the healthcare industry hit their goals in driving engagement and trust in the brand and information shared.
What is Referred to as a Medical Website?
Medical websites are websites specifically designed to provide information, data, resources, and services in the field of healthcare, medical conditions, treatments, and medical practices. The basic functions of these websites are to educate, inform, and support individuals seeking medical information or services.
Types of Medical Websites
There are various types of medical websites covering different areas, specialities, and functionalities, and they include:
Health information websites
On websites like this, you'll find accurate, detailed, and comprehensive information on medical conditions, treatment, symptoms, and healthy lifestyle living.
Government-owned health websites
These websites are founded and operated by government agencies, such as the National Institutes of Health (NIH) in the United States and the National Health Service (NHS) in England. Their website focuses on and provides information on public health, diseases, research, and healthcare policies.
Medical clinic, Hospital, and Healthcare centre websites
This category of medical website marks the online presence of the medical clinic, hospital, and healthcare centre. They provide required details and information about their staff, facilities, services, and treatments offered. It is usually a one-stop website for clients needing information on the facility.
Medical research and academic websites
These websites are under the operation and affiliations of medical research institutions, universities, or medical schools. They use their websites as an avenue to share their findings on different research related to the medical field.
Physician and Specialist websites
This type of medical website helps in creating awareness by marketing and promoting individual physicians and specialists through a showcase of their expertise, professionalism, and services. Patients considering a specialist can easily visit their website and read about their professional qualifications.
Healthcare directories websites
Like every directory, this website contains updated databases or directories of healthcare providers, hospitals, clinics, and other medical facilities. Healthcare directories websites feature patient reviews and ratings.
Medical News Websites
This category of the website provides news that helps in keeping the general public and healthcare professionals informed about medical technology advancements, medical policies, medical situations, and breakthroughs.
Patient Support and Advocacy Websites
These websites are devoted to supporting patients, their families, and caregivers. They also advocate for resources and utilities for the medical and health sector.
Functions of Medical Websites: Why they are Designed
Medical websites were created, designed, and originated to serve various functions. These functions cover some required needs of patients, healthcare professionals, and the general public. Here are some key functions of medical websites:
Dissemination of information
Personalized patient experience
Easy scheduling
Choice of expertise
Online Community
Research
Health education
Immediate contact or helpline
Dissemination of information
Dishing out information concerning all medical areas, lines, and topics is the major role and function of a medical website. It covers information on medical conditions, diseases, treatments, specialities, professionals, research, medications, and preventive measures. All these help people understand various health topics and give them first-hand information on their current concerns.
Personalized patient experience
One of the joys of medical websites is the one-on-one opportunity patients or users get to experience with their physicians, medical records, and health conditions in terms of information gotten from articles, personal patient portals, virtual visits, and consultations. They experience having their own space for access to treatment before they visit a physical health centre if need be.
Easy scheduling
In recent times, patients are able to make appointments in their preferred treatment centre without experiencing glitches or hiccups or having to physically schedule the appointment. This is a result of the many features a medical website has, where people can easily book or schedule online from the comfort of their remote location, the time available, and suitable for them to take treatments (when there are no emergencies).
Choice of expertise
Some medical websites feature the profiles of physicians, specialists, and medical practices, thereby giving the patient multiple choices of whom to be treated based on the profile displayed or proximity. The patient's trust in their chosen expertise is based on their displayed profile which includes; education, qualifications, experience, area of expertise, certifications, and testimonies.
Online Community
There are medical websites that are specifically designed to engage patients and provide them with a community. This online community allows them to share experiences, interact and seek advice from fellow members and from available professionals and caregivers.
It gives them the sense and feel of emotional support. Some of these websites even go as far as soliciting financial aid for patients who need it, advocating for better health utilities and facilities.
Research
One of the types of medical websites, as earlier mentioned in this article, is medical research and academic website, where researchers share on the site their findings of the research they have made regarding health matters, conditions, treatment, diseases, and so on. It, therefore, serves the function of providing patients and enthusiasts medical researchers evidence of work done and a factual, tested, and reliable tactic to some medical issues.
Health education
With the health information provided by medical websites, people can carry on with health awareness and promotion to educate and enlighten various people on healthy life choices, wellness tips, immunizations, disease control, and prevention. It also allows people to be more health conscious based on advertisements that are displayed on sites.
Immediate contact or helpline
This function is crucial because a website designed without a contact address or helpline is baseless. Patients must have access to a professional or health centre contact information in case they need to get in touch for further consultation, questions, or appointment booking. So, every facility medical website bears the function of providing a contact.
Examples of Medical Website designs
To design a medical website that would drive engagement and trust, some features and elements need to be curated into the website development. Luckily, some medical website designs can serve as an example and insight. Here are some medical website designs that can serve as a guide:
Cleveland Clinic
Cleveland Clinic invested in its colour palette, using white and blue with an addition of green to capture the viewer's attention and also signify health. As it is known, green identifies with growth and wellness.
Simple practice
Simple Practice gives handouts for healthcare providers with their significant feature of reviews and ratings. Their rating designs stand out and are visually appealing and easily accessible.
Mayo Clinic
Mayo Clinic designs are professionally structured, and their interface is functional. There is easy navigation on the websites, and users will find browsing the website enjoyable.
Brightside health
Brightside Health has taken into consideration functionality. Their website design focuses on how it operates and delivers its purpose. So you need to make sure you can offer that simple, painless experience to your patients or prospective patients. They also have an effective call-to-action pop-up design that captivates users easily.
One Medical
One Medical's homepage wraps patients in immediately at first glance. The blend in their tagline, graphics, and high-quality widgets gives patients a pleasant and positive experience. It has a smooth flow of navigation and menu.
It is important you know your patients so that you can know how to relate your design to your target audience. With great designs, you'll get your patients and users to always come back when need be.
Synergy private health
Their template design drives trust in patients because it features testimonials. Depending on the type of medical website you're building, visitors would like to see testimonials and high-quality pictures.
When pictures with human faces are used correctly, it encourages trust, and users feel a sense of ease. Avoid using stock photos that barely make a human connection. Synergy Private Health's hero section contains a rotating gallery of images of comfortable office spaces, patients carrying on with homely activities, a peaceful exam room, and friendly doctors.
Virtua health
During the process of a website design, all patients must be put into consideration and not just prospective patients alone. Your designs should give a clear message that you care and serve return patients as well. There should be elements and sections designed for them that make them feel welcome.
Virtua Health does this well by providing its patients with ways to access all the information they need with the MyChart and Telehealth links in the top navigation. They also included it in their website drop-down "Patient Tools" option.
Flatiron Health
This medical website design serves as an example of how it employs parallax scrolling. This is a design effect that makes web navigation amusing and stylistic.
It ensures the use of an easy, smooth, and clean design to complement the stylistic homepage layout. This design makes the website appear professional and convincing to patients.
23 Best Practices and Tips for Building a Medical Website in 2023
These best practices and tips serve as a guide to do medical websites right for their patients and users. These practices and tips include:
Include Quality Content
Understand Your Target Audience
Consistent Branding
Prioritize accessible website design
High-Quality Visuals
Online Appointment Scheduling
Supremely clear, simple website navigation
Educational Content
Make users feel at ease
Ensure prompting CTA
Clear and User-Friendly Interface
Be voice-search friendly
Privacy and Security
Understand HIPAA and HITECH
Patient Portals
Mobile Responsiveness
Social Media Integration
Easy-to-Use Forms
Keep it simple
Highlight Expertise and Credentials
Patient Testimonials and Success Stories
Easy-to-find contact information
Regular Updates and check backs
Include Quality Content
Content on medical websites has to include valuable and quality information. It should be worth the patient's or user's time that will be spent on the website.
They shouldn't contain unnecessary and unimportant information that can make them lose interest in the site's provided details. One of the reasons patients visit medical websites is to be informed, and to achieve this, stock up your content with what they ought to know in regard to medical conditions and health.
Understand Your Target Audience
In marketing, the target audience is one of the key players of a successful business. When the target audience is wrong, then the product or service goes to waste or hits a fall and decline. Medical websites should be intentional about their target audience.
Answer the questions; What is their health challenge? What can be done? What's the best way to go about it? Endeavour to tailor the web design to meet their required treatment, expectations, and specific health concerns.
Consistent Branding
Branding doesn't end with the creation of a logo. It only ends when the brand dies, and seeing it is not what is expected to be, web developers should ensure to have a continual process of development that keeps up with the medical brand style. It helps renew the trust or sustain the trust patients have in the medical clinic website.
Prioritize Accessible Website Design
To sustain the number of patients and website users, the website design should be easily accessible by all through any device, either smartphone, mobile tablet or computer. This should be prioritized so patients would have no difficulty navigating through. Also, consider disabled users as well.
High-Quality Visuals
Visuals matter a lot and perform great functions in keeping people engaged in what they see. Videos and pictures on the site should be of great quality that is pleasing to the eyes. Be original and avoid using stock photos that may appear generic.
Use high-resolution, professional images that are relevant to the medical field. Also, give patients the opportunity to explore the images of your facility, medical equipment, and friendly staff to create a welcoming and trustworthy impression.
Online Appointment Scheduling
This is an important player in designing a medical website that drives patient engagement and trust. It promotes ease of booking and treatment process.
With this feature designed into the website, it makes things easy for patients and also medical staff. This also provides convenience, thereby promoting constant engagement when needed.
Make Website Navigation Easy
Medical websites are supposed to come easy while navigating. It shouldn't leave patients confused or lost on the site because they find it hard to browse through the website. Users are possibly facing a medical issue and want information quickly. Hence, complex navigation and designs for medical sites should be avoided at all costs.
Educational Content
One of the ways to keep patients engaged on a medical website and to trust the information provided on the site is by ensuring that every piece of information or message they come across there educates them and is factually correct. This ensures that they benefit from visiting the site and getting accurate information.
Make Users Feel at Ease
It is advisable that users should feel at ease and be in comfort as they browse through the websites. Whatever can help achieve that goal must be carefully applied, be it the interface, content, design, colour palette, and so on.
Also, the content must be guided in a way that they do not appear judgmental to patients. Rather, you should use empathetic language when discussing dicey issues.
Ensure Prompting CTA
The CTA (Call-to-Action) displayed must be efficient enough in the sense that it prompts patients or website users to engage in the medical content available. The website CTA must inspire them to take the bold step to reach out to the medical clinic or to submit their contact information if that's the case.
User-Friendly Interface
A user-friendly interface promotes and allows for consistent use of a website. That is why a clean, clear, and intuitive that is easy to navigate uses a logical layout with clear headings, subheadings, and menus. Don't forget to design a search function to help users quickly find relevant information.
Be Voice-search Friendly
Voice-enabled search is generally accepted by website users. The aim is to keep patients engaged and at ease while on the website, so features that can make things easy for them should be considered. The faster users can ask their questions or find information, the more time they'll stay engaged.
Privacy and Security
Trust is built on the level of security and treatment effectiveness that patients receive from health care centres and medical clinics. Patient data must be duly secured with high-level data protection, and your site has to be HIPAA compliant with no breach in data.
Understand HIPAA and HITECH
Having the HIPAA (Health Insurance Portability and Accountability Act) and HITECH (Health Information Technology for Economic and Clinical Health Act) basic knowledge is necessary, but it requires more attention and understanding when implemented on the site. It validates more trust for patients in the medical clinic website design as it protects patients' privacy and confidentiality.
Patient Portals
To enhance secure communication and privacy, a feature to enable a patient portal is needed. With this, patients can explore telehealth services. Telehealth features that support virtual consultations, video appointments, or prescription requests will give patients have seamless and engaging experience on your website.
Mobile Responsiveness
With the advancement in technology and increase in mobile device functionality, people tend to use their mobile devices more. It is best that users can easily access healthcare information on your medical website through any mobile device.
Social Media Integration
To promote brand awareness and patient engagement, the social media profiles of the medical centres must be connected to the website, especially in the contact information section. If the website has a blog, users should be able to share the content directly on social media.
Easy-to-Use Forms
It is easy to get tired and lose focus while filling forms when it gets too long and difficult. To avoid this, make your online form on your site easy to comprehend and quick to finish by patients.
Keep It Simple
Always keep the medical clinic website design and health care website design simple. It should be designed and developed void of any complexity, as the goal is to keep patients engaged and involved.
Highlight Expertise and Credentials
Medical professionals and specialists in the facility should have their expertise and credentials on display. This guarantees patient's that they are not undergoing treatment or research learning from inexperienced or unprofessional people and staff.
Patient Testimonials and Success Stories
This demonstrates the quality of care you provide. It guarantees evidence of the medical clinic's job or work. It also validates trust from patients who are new to the system as they can see the display of positive experiences.
Easy-to-find Contact Information
The medical clinic's contact information, including email, phone number, and address, should be easily found and identified. This way, patients don't get discouraged before they locate the contact information.
Regular Updates and Check Backs
Technology requires constant technical checkups and updates, and this also includes websites. It should be constantly checked for possible glitches, bugs, and errors to avoid complications when patients are on the website. It is also required to regularly update the general development and operations of the website to ensure it matches users' preferences.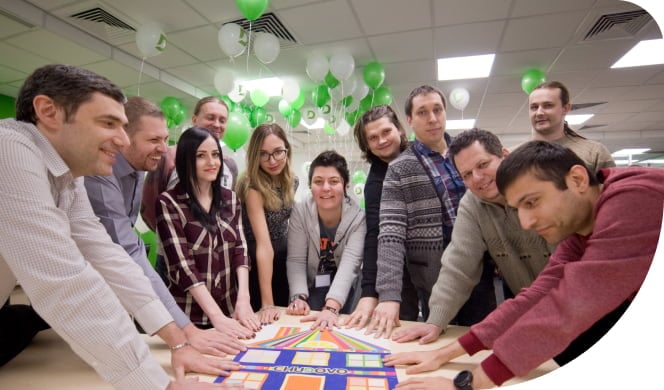 English and German
speaking engineers
Conclusion
In all that has been mentioned in this article, it is evident that a good web design for medical clinics and healthcare centres' websites is crucial for establishing credibility, attracting patients, and providing a positive user experience. It is necessary to adapt to the mentioned best practices and tips as it is a driving force in 2023 for developing the best healthcare websites and the best clinic website design.
It remains a fact that websites for medical clinics and healthcare play a crucial marketing role in promoting the brand and sustaining its brand identity. Therefore, it is important to regularly review and update your website to keep it current, relevant, and aligned with the evolving needs of your patients.
FAQ
How can the design of medical and healthcare websites drive and promote engagement and trust?
Patient engagement and trust in medical and healthcare websites can be promoted through these means; Inform, educate, and engage. The website has to be filled with enough details to inform patients of their current health status.
The available articles and blog posts should also educate them on the necessary steps and procedures to stay healthy and fit. And there should be elements on the site that engages them more to learn and be informed and to contact the helpline for further consultation.
Is it important to make my medical website mobile-friendly?
Yes, it is vital to make medical websites mobile-friendly. The use of smartphones and tablets has increased, and the world is about ease and mobility. So, to promote a positive user experience for patients who access medical websites on their mobile devices, optimize and design the site to accommodate mobile devices also.
What are some highlighted features and elements to include in a medical website for it to drive engagement from prospective patients?
Most healthcare website designs or medical clinic website designs focus on easy and simple yet purposeful features and elements to engage patients. These features include online appointment scheduling, patient personal portals for secure communication and access to medical records, an informative blog or news section, FAQs section, patient testimonials, and a responsive design that works well on various devices.
The elements that make up the best healthcare websites include key information about the medical practice, such as the practice name, logo, contact information, and a brief overview of services. It is also important that the website should also display navigation menus that can easily point patients to important pages like "About Us," "Services," and "Contact."
How can I make my medical website visually appealing and professional?
It has to be thorough in its designs, layouts, logos, colours, and graphics. The front-end developers can incorporate high-quality videos and images, graphics, and videos that are relevant to the medical field. Note that by ensuring a consistent layout and typography throughout the website, it communicates intentionality, reliability, and professionalism, thereby driving patients to trust the brand.
If you need qualified healthcare web developers, contact us now!
Talk to us
Let's talk about your project!
We will contact you as soon as possible