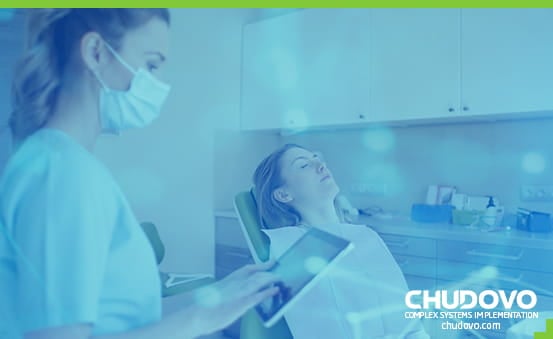 Digital healthcare trends and solutions: how technologies change medical care industry for patients and health professionals
Healthcare digitization started long before the game-changing Covid-19 pandemics. However, the new post-covid era created new demands: from the need of managing many things remotely to an urge of automating and simplifying processes. The pandemics boosted the digital transformation in all areas, including healthcare. What is more, most top trending technologies come to this industry first, so, combined with the other factors, like the growth of chronic diseases or population aging in the developed countries, healthcare transformation has become a necessity for patients and physicians.
Just a quick glance at the statistics gives a hint that healthcare digitalization is a subject of enormous demand worldwide. According to Statista.com, the global digital health market was valued at $175 billion in 2021 and is rapidly increasing to reach approximately $660 billion within the next three years.
Digital healthcare trends and solutions
New demands inevitably impact trending technologies and result in creating novel solutions. Some of the trends have been there for some time already, but keep developing and transforming according to ever-changing business and customer needs in the public health industry. So, what are these trends, and how does healthcare use them to enhance patient outcomes, customer satisfaction, and administrative workflows?
Personalized Healthcare
According to Grand View Research, the personalized healthcare market will reach almost $800 billion by 2028. This trend is related to mobile applications and other software solutions helping doctors define treatment plans based on individual patient data. It doesn't, of course, work separately without personal communication between a doctor and a patient, but the combination of traditional and modern digital approaches might significantly boost the overall course of treatment.
Such apps and software are often related to chronic diseases control and help monitor blood glucose value, seasonal allergy, asthma, and more. The main point of personalized healthcare solutions is to collect personal big medical data, and, which is the most important, connect patients with their physicians, allowing them to monitor patients current condition and quickly react to any parameter changes.
Personalized healthcare often works with wearables that collect their health data and thus create a unique patient journey map. The wearables are not limited by smartwatches or wristbands: modern technologies allow measuring breathing rates, blood sugar, or other essential medical parameters on the go. A journey map, created by these data-driven devices serves as a bridge between a doctor and a patient: a health care consumer has a clear visualization of all their health issues and thus has better self-control over their disease, while a therapist can timely prevent possible deterioration and amend a treatment plan.
Personalized Diabetes Management System
One of the examples of how to successfully apply personalized healthcare trends is our personal experience. Our client came up with a task to develop a system for their apparatus that will help control blood glucose values for diabetes patients. Our solution was a ready-to-use software that tracks patients' blood glucose values and collects these measures; besides, it keeps data regarding insulin doses that a patient gets. The system helps get an accurate and almost automated control on patients' health: they don't need to keep any health journals, and just share their measures tracked by the PDM apparatus. The apparatus communicates with the physician PC so a doctor regularly receives actual patient data regarding the blood glucose values and insulin doses.
However, this is not the only feature of the system: besides, it helps doctors correct the therapy according to possible changes in the nearest future and thus prevent and avoid severe issues. It's related to the next top healthcare digital trend: predictive analytics.
Predictive analytics and modeling in healthcare
While personalized healthcare apps focus more on patients' self-care and give them a convenient way to collect data for sharing with doctors, predictive analytics systems are more about the right decisions for medical workers. Predictive analysis technologies target improving patient outcomes and preventing possible issues before they happen.
For instance, ICU staff can use special predictive monitoring systems that help track various markets and be ready for a patient's deterioration. As a result, they react to possible issues quicker or even prevent them at all. It becomes especially important during the outbreak of the pandemic when the medical staff is too busy to pay too much attention to a single patient, and here is when IT comes to the rescue.
Personalized Diabetes Management System
The same PDM system we mentioned in the previous example involves predictive analytics technologies, too. We managed to create not simply tracking software, but a system helping to monitor and adjust the therapy process. Thus, the solution doesn't just keep the real-time data but also predicts the future values depending on current information. As a result, a doctor has quick access to all data needed to recommend corrective action when the glucose value lies outside of a target range — before it really happens.
This project became a valuable experience for us: it demonstrated how effective the new digital trends can be when you combine the latest technologies and focus on a personal approach. What is more, it gave us useful insights on how to apply a similar system for various healthcare areas, especially when it comes to chronic diseases management.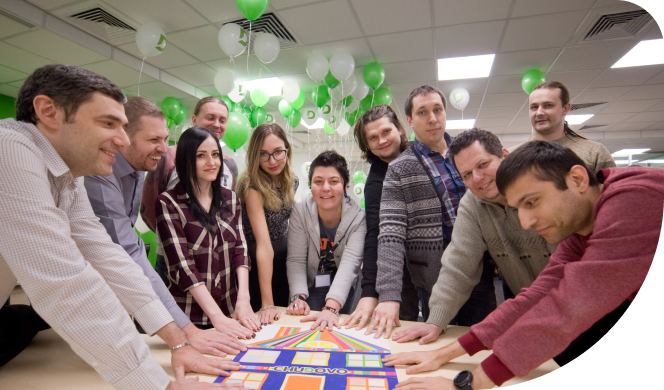 English and German
speaking engineers
AI and Virtual Reality in Healthcare
Artificial Intelligence in healthcare is another way to simplify processes and overall enhance service quality. There are many ways to apply it for improving patient outcomes: from simple chatbots for quicker consultations to robotic surgeries planning and visualization apps that minimize risks and complications for patients.
Besides, AI trends in surgery usually align with virtual reality technologies, and together they have a great impact on the overall surgery outcomes. Besides, AI and VR can enhance communications between doctors and patients.
For example, VR technologies allow surgeons to reconstruct a human body and vividly demonstrate all details of their future surgery. As a result, patients become able to speak the same language with their attending physicians and feel overall more confident about their treatment plan.
Another example of using VR in healthcare is related to patient satisfaction and involves caring about their mental condition. Again, it's about surgery: a range of hospitals provide patients with VR headsets they wear during the whole procedure, which shows a positive calming effect and even reduces pain feelings.
Healthcare operations/Clinical care automation
The Healthcare industry has automation as one of the top urgent demands, so artificial intelligence is becoming one of the most popular tech solutions for hospitals. For example, there is special AI-based software that understands human language and can take on all tasks related to documentation: creating prescriptions or preparing patient charts. What is more, clinical care automation saves money on managerial employees and time for doctors, allowing them to spend more time with patients, not administrative workflows.
Of course, this trend didn't burst out yesterday, but it still remains essential for the healthcare industry and thus requires a top modern approach. Today, new technologies allow automating workflows via integrated ecosystems that collect and keep data from all patients and doctors interactions, subscriptions, and more. Here is one successful example of how the latest IT solutions helped a healthcare enterprise boost its productivity and organize processes in a better, more efficient way.
Healthcare ecosystem for Corizon Health
This is another example from our experience. Corizon Health, a private prison healthcare company, reached us with a task to enhance their existing solution that allows automating interactions between patients and doctors and various workflows related to documentation and medicines delivery. We needed to improve the functionality and performance of the software system that would allow medical staff to keep all patients' medical records and automate the process of prescribing medicines.
In the end, the client came up with an ecosystem of medical applications that made it possible to manage the process of prescribing and delivering medicines and more. Here are the main ecosystem features:  collecting and storing patients' data: diagnoses, treatment plans, previous interactions between patients and medical institutions; prescribing medicines, and integrating the prescriptions with the external pharmaceutical systems to simplify the delivery process.
Telemedicine
The world is becoming used to remote work and communication. What is more, it might be vital for some to seek a way of minimizing personal contacts at the height of another coronavirus outbreak. The healthcare industry could not but follow the trend: according to forecasts, the telehealth market will be valued at nearly $460 billion by the year 2030.
The first thing coming to mind is various virtual nursing and care apps, created for video consultations. Such remote consultations have become a rescue for senior patients who can't visit a doctor physically and a convenient option for basically everyone who needs non-urgent medical care. As the trend emerged, many countries started to accept legislation allowing to make diagnoses based on telemedicine consultations without a personal appointment.  However, care apps are not limited by solely initial consultations. According to the American Society of Clinical Oncology, telemedicine assistance is widely used for supporting palliative monitoring of cancer sufferers and remote monitoring of patients in remission.
However, telemedicine solutions are not limited to video consultation apps. We already mentioned wearables that track and keep patients' health data and share it with physicians. Such health monitoring opportunities are also related to telehealth but involve advanced technologies beyond a simple online conversation.
Finally, telehealth is also about connecting medical staff. For instance, when a doctor needs to initiate a consensus or consult with a more experienced colleague, they can do it remotely using telemedicine platforms. In fact, such B2B tele expertise platforms helping healthcare professionals can be regarded as a separate trend, so let's speak about it in more detail.
Medical staff communication apps
Connecting medical staff is not just about remote communication between specialists worldwide. The trend is much wider and also involves internal systems for improving clinical communication and care coordination within a single hospital. It resonates with automation trends: quick and convenient interaction between health professionals working together is another tool improving the overall performance of a medical facility.
Messenger for hospital
Our client required a messenger that needed to solve two major challenges: simplify communication between doctors and nurses and establish a certain algorithm for this communication. As a result, the messenger was supposed to become a part of the workflows automation process and improve service quality, saving time for employees.
Within 250 man-days, we came up with a mobile and a web app client with such features as personal message exchange, group message exchange, shapes, images, and video modification, the possibility to attach files to the group and personal messages, and push notifications.
Final words
Although top healthcare trends show that the industry is rapidly digitizing, there is still space for improvement and the creation of new solutions. The existing trends will inevitably change to adjust the growing demand for enhancing patient outcomes and optimizing workflows in medical facilities. As a result, more and more companies are striving to come up with brand new concepts. Today, a plethora of startups and established enterprises are actively working on creating advanced ideas for healthcare — and they need access to seasoned developers and support from software development companies with expertise in the health industry.
We in Chudovo know the ropes of the healthcare area and are ready to help you with the development of your solution, so feel free to contact us for a consultation.
Talk to us
Let's talk about your healthtech project!
We will contact you as soon as possible