Top 10 Video Management Systems in 2021
Choosing a security camera is a big deal. But video camera in itself is useless without good video management software. Besides, the open source video management is what defines the functionality the chosen camera will have.
In this article, we'll introduce you to the top 10 best video management systems to pick from in 2021.
iSpy Software
iSpy is an open-source video surveillance program. It connects to webcams or IP cameras software. This software can broadcast unlimited cameras to your viewer access either on the iSpy website or on your device. iSpy software allows you to communicate with visitors via the camera and it will monitor and listen to all required microphones and will send back text to the visitor. The program also includes motion detection that can systematically capture snapshots or create time-lapses. iSpy software currently has more than 2 million users worldwide and its basic plan is free to use. It also offers a paid subscription if you want to access cameras remotely.
EyeLine
EyeLine open source video management service is an excellent choice if you want to connect multiple cameras. This software can monitor and record 100 cameras simultaneously and it allows you to watch the footage in real-time. This truly smart video security software will only record footage after some sort of motion is detected and will avoid wasting storage on useless shots.
ContaCam
ContaCam is a popular fast, light and customizable video management system. The program will offer you to choose between motion detection of continuous recording, based on your storage plan. You can also request to receive daily video summary instead of getting all the shots. ContaCam also includes a license plate recognition technology.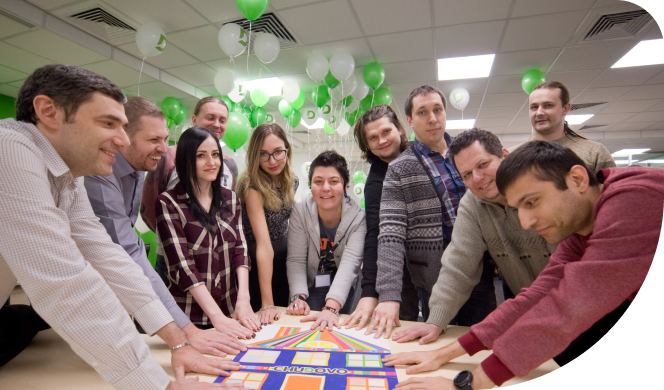 English and German
speaking engineers
ZoneMinder
ZoneMinder is a video content management software known for its extremely simple configuration. It works on most of security cameras and there is only one downside, according to its users, – ZoneMinder is a suite of multiple apps. Developers say that they achieve a high-quality business surveillance video due to aligned work of multiple apps. This VMS offers an intuitive design what makes software easy-to-navigate.
Ivideon Server
Ivideon security video analysis software is known as the best free IP camera software recording software on the market. The software detects any unusual motion and notifies the user about it. It does a great job detecting movements due to complicated algorithms developed specifically for this VMS. Ivideon Server offers a free basic plan. You'll only need to pay if you decide to use the cloud storage.
Blue Iris Software
Blue Iris is a well-known cloud-based video security software. It's specifically known for its intuitive camera control system – anyone who knows the access credentials can view and control the camera. Such feature makes it useful if you are planning to share the surveillance video duty with your staff members.
Luxriot Evo
Luxriot Evo is a 100% free open source video management. The company's primary focus is delivering high-quality software and top-notch customer service. This video surveillance video program includes the functionality of audio and frame editing and it allows you to stream the camera's footage on YouTube Live. Though, Luxriot Evo software can't operate on more than 10 cameras simultaneously, so we'd recommend this provider only for small businesses.
Webcam XP
WebcamXP video management system works well with different types of cameras and it includes multiple streaming modes. You can connect WebcamXP to your mobile device or computer and choose to watch surveillance video in real-time or set it up to make small recordings.
SmartViewer
SmartViewer is a Samsung-developed video content management software. It works both with network video recorders and digital video recorders. The software can support up to 72 devices simultaneously. SmartViewer allows its users to organize the recordings and perform search in the database.
Camcloud
Camcloud is a cloud-based video security software. The CamCloud VMS automatically detects nearby cameras and offers you to connect and manage them from your program. All the footage is automatically saved to the cloud for 90 days. In case of lack of internet connection, you can set up to store the data in your local storage and upload it to the cloud once the connection is restored.
These are the best video management systems on the market. If you are going for a brand, we recommend picking from one of them. If you want more technical details, here is a list of factors to consider when choosing a VMS.
Features Of A Video Management System
Architecture. You want to make sure that your video management service uses a server-client architecture. Such detail will significantly improve your software scalability and flexibility.
Licensing. You need to make sure that your software licensing is easy to install and maintain. Also, specify all kinds of licensing conditions – is it a one time purchase or will you need to renew it?
Software Maintenance Agreement. We encourage you to sign a Software Maintenance Agreement and settle it down at a reasonable cost.
Efficiency. What's the point of a video surveillance system if it's not efficient?
Camera integration. We advise you to choose a VMS taking into account its integration capabilities with your preferred brand and type of camera.
Connectivity. Besides camera integration, you need to make sure you'll be able to connect the video management system to all kinds of interfaces and devices you need.
Configuration. Look for simple and logical configuration and user-friendly interfaces.
We hope you enjoyed this article and we made it easier for you to make your choice. If you need any assistance with choosing a video management system for your business, feel free to contact us. We will be glad to help.
Talk to us
Let's talk about your project!
We will contact you as soon as possible