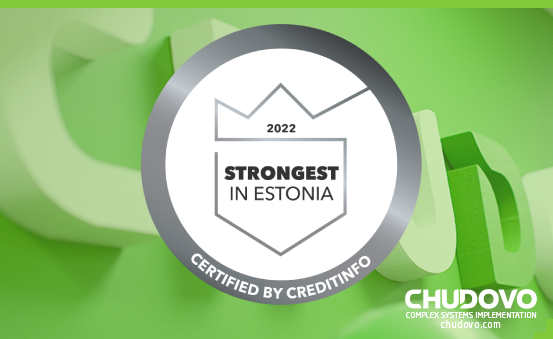 Chudovo OÜ awarded "Strongest in Estonia 2022" with credit rating AA certificate
Chudovo OU once again became one of the leading companies in Estonia, having received an AA rating and a place in the list "The strongest of Estonia" from Creditinfo.
Creditinfo has been issuing the Strongest in Estonia certificate for the last 15 years to acknowledge those Estonian companies whose economic condition and operational principles have helped them to achieve a consistently high credit rating and who have thus contributed to the development of the Estonian economy and positive business culture. The certificate enables companies to stand out from their competition by demonstrating their good creditworthiness and trustworthiness.

This rating testifies to the high level of operational practices in the company, its successful development, financial stability, and discipline, as well as compliance with the best management standards in the country. A credit rating of AA grade from an independent leading Estonian agency serves primarily as a marker of the company's reliability for its counterparties and the minimum possible risks in cooperation with it.
We are grateful to our employees and customers that thanks to their passionate work and mutually beneficial partnership, Chudovo continues to develop and receive well-deserved recognition in the market.
Talk to us
Let's talk about your project!
We will contact you as soon as possible