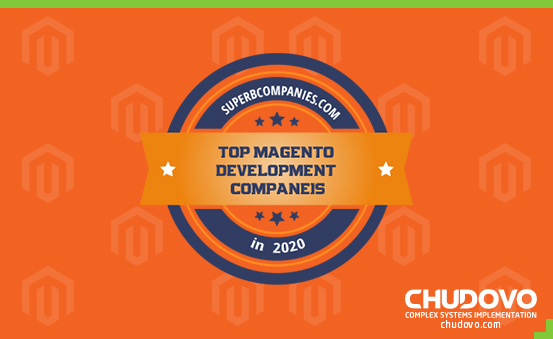 Chudovo Listed TOP Magento Development Company
We are thankful to SuperbCompanies for such a high appreciation of our efforts and happy to be one of the top Magento Development Companies in 2020. We also express profound gratitude to all our customers who entrusted us with their projects helping us become one of the Magento development leaders.
Chudovo strives to create modern and high-tech systems providing successful growth of our clients' businesses. The inclusion in the SuperbCompanies rating demonstrates our dynamic development and high level of provided services, especially ecommerce Magento solutions. We have at our disposal the real professionals, work with advanced technologies, and develop solutions being guided by our unique expertise and profound knowledge. Chudovo has many years of experience in delivering complex projects for industries such as finance, medicine, logistics, retail, e-commerce, telecommunication, and education.
Chudovo is an international company providing custom software development services. The head office and development centers are located in Kyiv, Cologne, New York, Tallinn, and London.
In the past 14 years, the company has completed over 142 projects, including complex IT solutions for various businesses. It has dealt with enterprise automation systems, large social networks, logistics portals, mobile applications, e-commerce platforms, etc. Moreover, Chudovo also has extensive experience in IT consulting.
About SuperbCompanies:
The SuperbCompanies ranking is the result of the annual work of a team that accumulates, systematizes, and analyzes data on thousands of Ьagento development companшуі around the world.
Every month SuperbCompanies ranks the leading Magento development companies according to the conducted research of different markets. These ratings provide an overview of the most reliable Ьagento consulting companies in a particular industry or region. The SuperbCompanies experts do their best to provide businesses with accurate information for choosing software development, marketing, SEO, advertising, testing, and consulting companies. The final lists of leaders include Ьagento consulting companies with the high growth rates, good reputation, and high-quality services.  The rating is based on the declared services and verified client feedback.
Talk to us
Let's talk about your project!
We will contact you as soon as possible