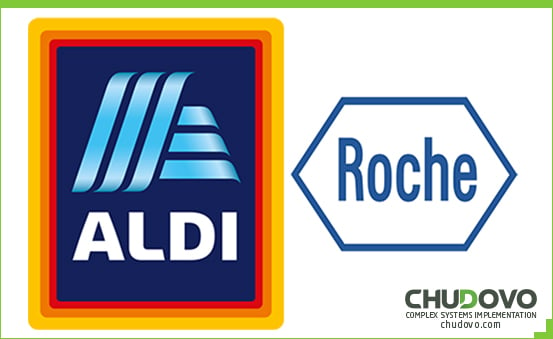 Chudovo works on projects for ALDI Group and Roche
Chudovo OÜ continues close cooperation with international partners. Among them ALDI Group and Roche – world leaders in global solutions. Our specialists take part in development of high-quality software, providing a wide range of progressive as well as innovative ideas.
Roche creates new and better pharmaceuticals which offer significant benefits when compared to existing options. Company is conducting research into diseases where there is a high medical demand for innovative diagnostic and therapeutic approaches. Roche provides products and services for the prevention, diagnosis and therapy of diseases to researchers, doctors, patients, hospitals and laboratories across the world. Company uses innovative molecular techniques to develop drugs and diagnostics that improve the health, quality of life, and survival chances of patients.
Our professionals are involved in the development of personalized diabetes management tool (PDM), based on microservices architecture. It helps doctors to comply with processes in the context of diabetes therapy. PDM is used to locate and to correct deviations in the therapy process. Besides that, the tool is used for the documentation of the data acquisition. The quality-relevant processes are described and modeled in the BPEL XML-based language. Apache ODE is used on the server side as a BPEL engine and contains separated process modules for control, diagnostic, metabolic, adipositas, fat metabolism and hypertension.
Main technologies: Java 8, .NET, Xamarin, Spring Microservices, MariaDB.
ALDI Group, privately held by brothers Theo and Karl Albrecht, is Germany's leading grocery store chain and a top competitor in the global retail food industry. Cited by some as Europe's largest retailer, the chain has found success by going against virtually every standard of supermarketing, from its legendary reticence to the "Spartan atmosphere" of its stores.
The aim of the software, developed by our specialists, is to agree with freight forwarders for specific postal code areas and quantities, rates and to keep them against the transport costs of the suppliers. The software designed in the context of this project supports employees in the maintenance of the rates, the queries with the suppliers, the communication with the Central purchasing department and the identification of the appropriate rate. The main objective is to save costs in the area of transport costs.
Main technologies:.NET, RESTful API, OData, OracleDB.
Talk to us
Let's talk about your project!
We will contact you as soon as possible