How To Hire A Good Magento Developer: Most Common Mistakes and Step-By-Step Guide
Table of contents
Magento makes your eCommerce experience smooth, streamlined, and efficient. As a result, you can build better stores and create more effective channels for generating revenue. However, running a Magento store without the help of Magento developers is not recommended. You may end up hurting your chances of getting better than the competition because your store is not good with SEO, design, performance, and all the other aspects that need tweaking. To work on these things, you can hire a Magento e-commerce developer. A professional who will work on the front-end and back-end of your eCommerce store to make it more efficient in all aspects. Even if you manage to build your digital storefront, there will always be something that must be done to stop things from derailing. To hire a developer, you need to follow the right approach, which is precisely what we will help you with today.
Why are Magento Developers in Demand?
There are a total of 194,190 websites powered by Magento across the globe. It is a popular technology used by businesses, including fashion, shoes, apparel, furniture, computers, food, groceries, jewelry, etc. With comprehensive usage across the web, Magento offers better features and functions to help you run your online business. One of the reasons why Magento has high demand is the extent of personalizations. For a non-tech person, understanding and working on these customizations to fine-tune the platform according to your requirements is easier said than done. To harness these aspects, a Magento developer is essential, and hence their demand is also higher. Moreover, if any of the world-renowned brands use a technology, businesses smaller in size also tend to follow suit. As they want to work with technology, the people that have an understanding about the same will also be more in demand.
Today we have companies like Ford, Land Rover, Nestle Nespresso, ASUS, Helly Hansen, Burger King, Sigma Beauty, HP Inc, Nike, Jack Daniels, among others using Magento. As a result, companies who are in the same industry as these also want to use Magento and hire a developer for their online store management. This is the technology that manages 0.7% of all websites. All these things collaborate to raise the demand of the Magento developer required to with this technology and leverage its capabilities to run a successful online solution.
Magento Market Situation and Statistic
Let's go through a few more good things about Magento and how it compares in the market against its competitors.
Magento helps businesses gross over $155 billion every year.
Over 20% of the top 1000 online retailers use Magento to build and run their platforms.
Every day Magento is downloaded more than 5000 times.
This technology handles more than 1.08% of the websites in the top 1 million category.
Out of all the countries, the US has the highest number of businesses using Magento, standing at 70,017 and counting.
Magento is a leading eCommerce solution today, and it has bagged a considerable chunk of the market share. Due to a number of features like easy scalability, extensibility, and responsiveness, developers also find working with this technology easier.
With Magento, the developers and businesses can benefit to a great extent. But is it possible that Magento is able to perform similarly in the future too? Can we expect Magento's market share to continue growing?
There is a shift in demand for the platforms required to manage and run online stores. Small and budding businesses want to save money that is required to hire developers. As a result, they use tools that help build eCommerce stores with drag and drop functionality.
However, the extent of customizations and performance enhancement required to run a successful store is not possible with ready-to-use solutions. This makes it essential to hire Magento developer.
Required Skill Set of an Expert Magento Developer
Let's begin with the programming languages you need to check when you hire Magento developer. An ideal developer must have experience in significant website development languages to work with Magento-based solutions. These include CSS/HTML, SQL, JavaScript, PHP, etc. Someone with a certification for Magento skills and understanding is a better fit for your organization. Certificates are obtained after passing an exam, which is specifically set to verify the person's knowledge of the platform and technology. Look for the person who has the knowledge of Magento 1 and Magento 2.
In addition to these, check that the candidate has experience in website, module, and theme development. A person who understands how to implement customer eCommerce solutions, build extensions and shopping carts is also essential when you hire a Magento developer. A Magento developer you hire should also be able to solve problems quickly and efficiently. Look for a person who can manage multiple tasks and brings solutions to the table. While developing, any person can come across a wide array of coding and design issues. Hiring a Magento programmer who can solve these problems quickly and effectively will be beneficial to your business. The last two important things to check when you hire Magento developer is the candidate's understanding of database technologies and migrating to Magento.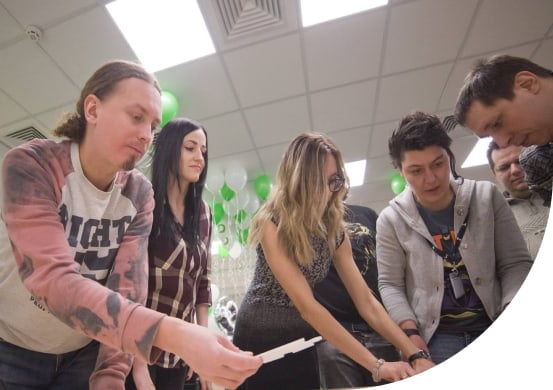 Looking for a Certified Magento Developer for your project?
English and German
speaking engineers
Where to Find Top Magento Developers?
After knowing what type of Magento developer will be best for your organization, you need to look in the right places for them. You may be naturally inclined to search for the platforms on Google, but that won't solve anything.
Instead, you will get confused between the wide availability of platforms. A better way is to follow our recommendation and use these sources for hiring a Magento programmer:
Ask in Your Network: Start by asking for recommendations from your professional and personal circle. This is the best way to hire a developer as you will get an honest review about the potential employee. Do not entertain a recommendation from your friend only because they have heard of a good Magento certified developer. Consider only those developers your friends know personally or have worked with them before.
Magento Community: One of the parts of the Magento Community is Solution Partners. Magento provides access to companies or developers—who are called Partners— to companies. These developers receive training, support, and additional services from Magento, making them efficient and good at their job. One drawback of associating with these companies is that their hiring cost is higher than average.
Gig Websites: Platforms like Upwork, Toptal, Freelancer, etc., have a long list of junior and experienced Magento developers that you can hire. One post will receive more than 50 responses, which means that you will have to handpick your desired developer. It may take some time to crawl through all the applications, but if you can give it some time and know how to filter the good developers from the bad ones, these websites provide the most cost-effective way to hire Magento developer. While selecting a Magento developer from these websites, make sure to go through their reviews and ratings. It will give you a better idea of the developer's ability to work on your project.
Work with Magento Development Companies: Working with a Magento development company means that you are transferring your development work to a dedicated Magento development company. Chudovo is an expert Magento development company that provides services for building reliable online storefronts for businesses. Companies like Chudovo have expert Magento developers and provide front-end, back-end, DevOps, designing, and testing solutions. These are like one-stop shops that have everything you need to design, build, and manage your eCommerce store.
Use Professional Platforms: Glassdoor, LinkedIn, Indeed, ZipRecruiter, etc., are some of the many websites that help companies and developers connect and work with each other. For a Magento developer, you will have to post your job requirements on these platforms and wait for the responses. On LinkedIn, you can also search for a Magento developer directly to get a list of people who are working with this technology. Other than this, professional groups of Facebook can also help in hiring Magento developers.
How to Hire An Expert Magento Developer Step-By-Step Guide?
When you want to hire a developer, begin the process by listing down your requirements. This helps in shortlisting only those candidates who can become a perfect fit for your organization. You know the hard skills required to hire Magento developer, but there are some soft skills you should consider. These are qualities like project management skills, ability to communicate with clients, team members, and other stakeholders. In addition to this, look for qualities like creativity, bringing innovative ideas to the table, and most importantly, the person should be able to handle pressure. Once you have the requirements, set the budget to hire a Magento developer. In the development world, you need to choose between quality or cheap, there is no in-between. Of course, when you pay the cost, quality is a necessary attachment. Start posting your requirements on different platforms. If you are asking for recommendations, talk to the candidate directly and explain what the job is about and what you are expecting.
Creating the right job post is also crucial to hiring the most qualified Magento developer. When you receive responses, always check the candidate's credentials and portfolio. Credentials include certification, experience, and companies the person has worked with. The portfolio includes the past projects and in which industries the person was involved with previously. The portfolio is a good way to compare your work with the candidate's and know whether they can work on your project. The candidates who pass this stage must undergo a formal interview and testing procedure. For freelancers, you can keep a small paid test, and if you want to hire a person in a permanent position, testing becomes part of the interview process. Hire Magento developers who pass the verbal and practical test.
How to Identify Your Magento Developer?
From the outset, all the profiles you get will look the same except for the experience and portfolio. While these things are important, do not hire a developer based merely on these aspects.
Look at a few other things that will help you identify the best Magento developer:
Assess the industry knowledge of the potential candidate of the development technology.
An ideal Magento developer must be disciplined and diligent in his/her work.
Always take a look at the feedback received by the candidate from other clients and companies.
You can also get in touch with one or two of their previous clients to know more about the person.
You won't get a readymade sign that says, "I am your ideal Magento developer." If you want to work with the best, you have to put some effort into hiring the right person for the job.
Most Common Mistakes While Hiring A Magento Developer
Even though making mistakes is a way to learn, if you are running a business in a competitive industry, you cannot afford to make any mistakes. The same applies here when you are looking for a Magento developer. Avoid these mistakes when you hire a Magento developer.
Don't Drool over Low Price: Again, low price does not necessarily mean good quality. By hiring the person with the lowest salary bar or hourly rate, you are digging up your pit to fall. Generally, low price comes with quality issues and the inability to implement innovative development methods, which is not good for your business.
Limiting the Project Scope: Development projects do not finish with successful launching. The real work begins after everything is up and running because then comes the task of sustaining and maintaining the platform. So, hire a developer who can provide continuous development and support.
Think of it this way; you are not hiring a person to help you manage your current projects. But you are hiring a person to take your company to the next level. So, always prefer hiring or working with people who are good at their jobs, at learning new skills, and at implementing the latest development standards.
Conclusion
After going through the entire process to hire a developer, it becomes clear that you need to make some efforts to ensure that you work with the right person. One of the best ways to ensure this is by hiring Magento developers from Chudovo. Your job will be to assess their ability to understand your project requirements and implement innovative approaches for developing the product.
Let them help you hire Magento developers and contact us immediately!
Talk to us
Let's talk about your project!
We will contact you as soon as possible