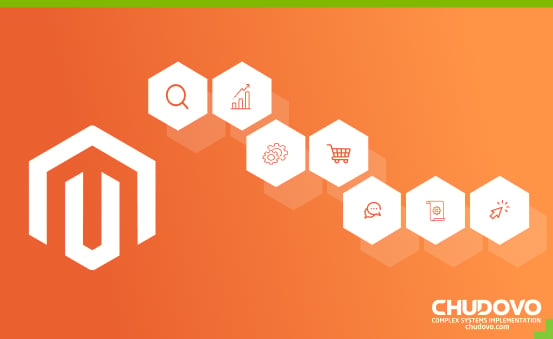 Magento Developer
The arena of E-commerce broke new grounds after the outburst of COVID-19 due to a spike in online shopping and demand for the safest product deliveries. With the expected boom in competition at a whopping grand scale shortly, entrepreneurs are yearning only for the best eCommerce solution to set a cutting edge. That's where the significance of 'Magento' enters into play. It is a wide-wide popular open-source eCommerce platform written in PHP that helps developers to create eCommerce websites.
To a little more surprise, Magento also helps the merchants to relish the desired traffic to their store by offering the scope of advanced search engine optimization (SEO). By optimizing the Magento eCommerce website for SEO, users can create room for bonus conversions and substantial ROI (Rate Of Interest).
Being flexible and versatile, Magento eCommerce is becoming a big-picture for passionate digital business owners for its list of features. Until now, it is the top-rated solution for 12% of total online sellers in the world. What's more phenomenal is that it also results in the right set of circumstances for Magento developers as they aim to take the industry to new heights with their technical efforts. Thus, here is a complete guide about Magento development for one who wishes to know, 'what is Magento and wants to make the best of its growing popularity among eCommerce in the high-tech world.
WHAT IS MAGENTO?
Magento is perhaps the most refined eCommerce platform introduced in 2008 for online business owners. Built on open source technology and written in PHP, it allows the users to have access to free, flexible, and simple-to-use software. It makes use of several other PHP frameworks such as Symfony and Laminas.
The core benefits that make Magento development a leading advanced digital solution for eCommerce innovation include built-in upsells and cross-sells, easy third-party integration, filter search for shoppers, and a flexible Magento shopping carts system. Besides, it is quite powerful and spacious to support up to 500,000 products on one Magento website.
In other words, making full use of Magento SEO friendliness makes it possible for the merchants to stand in the competition with the rise in the number of site visitors and overall revenue. Besides, this also helps the website rank on the top of search engines, making it easy for visitors to access products and services. Some of the top suggested SEO practices for Magento store are utilizing header and title tags, eliminating duplicate content, keeping the URLs short, harnessing no-follow links, and many more.
History And Interesting Facts About Magento
Magento Timeline
The idea of inventing Magento spring up in the initial days of 2007, and seven months later in the same year, on 31 August 2007, its first public beta version came into existence. The credit goes to Roy Rubin and Yoav Kutner, who developed its foundation while working on the project named Varien.
While working on the project, the co-founders squinted at the market gap with the help of competitor osCommerce. It was planned to be the sub-system of osCommerce initially, but looking at its non-capability to accommodate all the options, they planned to develop it from scratch. After Rubin placed ads on Google Adwords, the collected funding resulted in the development of the Magento community framework.
Consequently, the first product of Varien, that is Magento, was released in 2008 officially under an open-source license. Later after a year, the platform witnessed new sparks of popularity for its customisable Magento templates and flexible features. It even beat osCommerce in the competition and became the leading solution for eCommerce traders in 2009.
Further, as a surprise, the name of the Magento development company Varien was changed to Magento in 2010 as the product got more recognition with this name. Growing and becoming popular at a fast pace, Magento development hit new grounds of success when eBay made an investment worth 49% share in the Magento development company in 2010.
In 2011, eBay proposed that it would shortly acquire the company, as a result of which, it integrated PayPal into Magento's eCommerce platform. However, due to the split of PayPal from eBay in 2015, Magento again emerged out as an independent company.
Magento eCommerce blazed the trail in 2016 when it was introduced as a service (PaaS) named Magento Enterprise Edition. Designed for large businesses, it was ensured to provide technical support in terms of installation and configuration, even though the core service was similar to the Magento eCommerce community edition.
In June 2018, Magento was acquired by Adobe at the cost of $1.68 Billion. Adobe then introduced the new version of it, that is Magento 2.3, in the same year to help the merchants sync their Magento eCommerce store to Amazon. After a year, Adobe blended Magento commerce cloud into Adobe Experience cloud to help the businesses provide high standard customer experience.
Interesting Facts
More Than 250K Merchants Use Magento Worldwide
Ever since its introduction, Magento development has taken the market by storm for its A-list features and incredible Magento templates. This being the reason, more than 250,000 online merchants harnessing the powerful CMS of Magento eCommerce to sell their products and services worldwide. Surprisingly, the list also involves the name of some of the top international brands as well. These are Ford, Monin, Liverpool, Nestle Nespresso, Olympus, and many more.
Magento Empowers 1.2% Share In CMS Market
Magento overrules the competition when it comes to CMS applications. Even though there are plenty of eCommerce platforms that exist in today's world, Magento eCommerce still managed to power 1.2% of the total internet, with 12% of the total market share in developing eCommerce websites.
More Than 300K Developers Work On Magento
One of the basic reasons behind the continuous evolution of the global community, Magento is a hefty number of developers working hard towards the path of innovation. In total, there are more than 300,000 Magento developers in the world who play a giant share in developing, maintaining, and improving Magento eCommerce.
The Name Magento Was Derived 'Mage'
The story behind the deviation of the name 'Magento' is quite interesting. Initially, in 2007, the platform was known as Bento, but due to some legal conflicts, it was interchanged as 'Magento.' Where some believed that the real inspiration behind the name is the colour Magenta, the truth came out that it is because of developers thinking of mage, that is, spellcasters from roleplaying games.
Magento Is Second-Most Famous eCommerce Platform At International Scale
The field of eCommerce is continuously making significant development in the form of a feature-rich platform. If we delve into the top solutions for developing top-notch online stores, Magento vs Shopify is the highlight of the matter for being close in the competition.
In other words, where Shopify powers 8% of the total share in the eCommerce market, Magento eCommerce leads a little with 12%, thus becoming the second-most famous eCommerce platform for aspiring business owners. The first is indeed WooCommerce, with a total of 18% online sellers worldwide. It is why the concept of Magento vs Woocommerce is one of most talked about by users.
Magento Possess Security Concerns
The only alarming fact about Magento eCommerce is that users struggle with the security problems on their Magento websites. The study by AstraSecurity revealed, 'There is at least one ongoing security issue in 60% of Magento sites.' With Magento becoming the highly preferable solution for eCommerce practices, there is a dire need to put an end to the security concerns.
Number Of Websites Created With Magento Worldwide Until December 2020
Founded in 2008 until 2020, Magento has always stayed in the list of popular sources, especially among medium businesses and enterprises. One of the significant reasons behind its remarkability is the countless themes and extensions deployed in Magento Commerce to let business entrepreneurs explore all the avenues. Secondly, its large set of top-notch features blends well with business needs making it convenient for users to operate daily activities for a smooth run. Here is evidence that proves the worth of Magento in the field of eCommerce.
As per reports by Statista, 'The number of websites that harnessed Content Management System (CMS) Magento as a foundation for growth are counted to be 761,000, as of December 2020'. This is more than approximately 1.4% of all the websites on the internet (including and excluding both eCommerce sites).
To access the Magento web development trends until 2020, data from BuiltWith has also been collected. The report proposed that there are about 755,557 websites using both the latest and historical versions of the platform. Out of all, 212,361 are currently live.
Magento Popularity
Popularity of Magento is growing every year. Gartner Magic Quadrant for Digital Commerce – global research company in it's report 2020 defined Magento (Adobe) as digital commerce leader. Magento is one of the best e-commerce solutions.
Another data founded by W3Tech stated that Magento commerce holds a 1.5% market share of all Content Management System (CMS) with WordPress and Shopify on the top of the list, respectively. However, the trend shows a fall in the proportion of Magento's market share as the numbers of other eCommerce platforms are making headway in the competition.
Thus, to wrap up with the reports or Magento usage statistics from various sources, it can be said that Magento holds a moderate expanse of market share in the world, that is around 4%. The top 10 world's leading brands being the proud users of Magento include Joel & Son, Sigma, Cox & Cox, Boodles, The New Craftsmen, Nike, Warby Parker, S'Well Bottle, Fred Perry, and Helly Hansen.
The basic reason behind Magento development still being standard in the competition is that it offers out-of-the-box functionality and tight integration to its users in connotation to Magento vs Woocommerce. Also, the fact that it presents easy integration of shipping, accounting, and other third-party software makes it the easy-breezy solution to bring into being.
Additionally, Magento also stays ahead in contrast to Shopify in plentiful terms even after holding a lower proportion of market share relatively. This is because of its extensive power-packed features and high scalability. What's even more phenomenal is the option of customization and cloud hosting, thus making Magento download one of the pride and joy for users. In short, in the race of Magento vs Shopify, the former run the show in terms of advanced features, customization, scalability, and ease of download.
Magento Products
Magento is an open-source eCommerce platform that manages both B2B and B2C business scenarios and gives more functionality, including high-tech marketing features. It supports multiple product types to comply with the varying needs of eCommerce businesses, owners, and customers.
Magento Commerce (Open-Source)
Magento Open Source Or Magento Community Edition is a free version for Magento download and install for rebranding the entire product range. It is a feature-rich and high-standard platform and thus makes the best choice for SMB merchants to compete in the market.
Other than small businesses that aim to establish in eCommerce, Magento Open Source is also harnessed by some greater enterprises, including Brand Alley, PMT Music, Erdem, and many more. It is because of the commendable features such as visual merchandising, content staging, page building, and preview.
At the basic level, the product of Magento 2 is categorized into six popular categories. These are Simple, Configurable, Virtual, Grouped, Bundle, and Downloadable. Based on the preference and needs of the business, the best kind of products can be selected for the Magento open source store.
Simple Product – These are the physical products with no options in the form of color, size, weight, and other aspects. In other words, simple products are products with a single Shelf Keeping Unit (SKU). To make the products sell with variations, such products are set with distinguished pricing and input controls.
Grouped Product – When different simple products are represented on one page, these are known as Grouped products. One can buy such products separately or as groups as these are set with variations of a single product or group.
Configurable Product – Configurable products are similar to Simple products but with a variety of options in the form of color, size, and other attributes. Each product still has a separate Shelf Keeping Unit (SKU) to track the inventory with ease.
Virtual Product – Different from physical products, virtual products cannot be accessed in tangible form. The best example of products under this category includes services and subscriptions. Users can also include virtual products in combination with grouped and bundle products.
Bundle Product – Bundle products are best used to create customized product listings. These involved both simple and virtual products as these cannot be sold separately. Users can create their collection of options, such as a gift basket along with a personal computer.
Downloadable Product – the products that can be downloaded by customers falls under the category of Downloadable products. The picture-perfect examples of synch products include eBooks, music files, software, mobile applications, and others.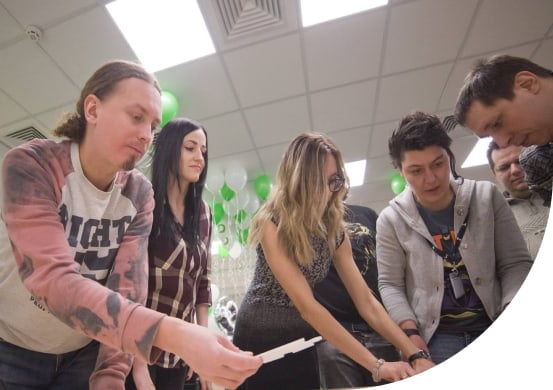 Looking for a Certified Magento Developer for your project?
English and German
speaking engineers
Magento Commerce (Commerce Cloud)
Previously known as Magento Enterprise Edition ( EE), Magento Commerce is a product meant to offer broader functionality and flexibility to large-sized enterprises. The unlimited scalability and state-of-the-art eCommerce solution offered as a part of Magento Commerce make both B2B and B2C businesses rise to the occasion.
Magento Commerce in the form of a platform as a service hosted solution or Cloud platform, some level of updates is applied automatically. Also, this version offers a series of tiers and packages that feature Adobe products. It is a basic yet essential product delivery solution to set a cutting edge in the competitive market.
Magento Commerce (On-Premises)
Magento Commerce Pro (On-Premises) is a platform for eCommerce users to enjoy utter scalability and flexibility during business operations. In addition to out-of-the-box features, it allows for extensive customization and third-party integration for the best of business needs.
Previously the on-premises version of Magento commerce was available at $27,000 per year, but later on, it was announced that the price for Magento on-premises would be the same as that of Magento commerce cloud. It is licensed based on Per Base Package metrics and upgraded with the feature of Business Intelligence Pro.
Additional Feature Of Magento Commerce
Magento Business Intelligence – It is the cloud-based data management platform that makes it easy for eCommerce website users to evaluate the status of business health. All this happens with integrated and easy-to-use commerce dashboards and reporting tools. The statistics such as Average Order Value, Retention rates, and Customer Lifetime Value can be calculated using the capabilities of Business Intelligence Pro.
Magento Order Management – Order Management feature of Magento eCommerce development allows the users to relish cross-channel experiences by setting multiple brands, stores, and warehouses. With this, a business can set and fulfill the order from anywhere.
Magento Shipping – Magento open source platform offers out-of-the-box shipping methods to let eCommerce create incredible experiences for their customers. These methods comprise:

– Free shipping
– In-store delivery
– Flat rates
– Table rates
– Multiple address check-out
– Integration with remarkable service providers
Technologies Stack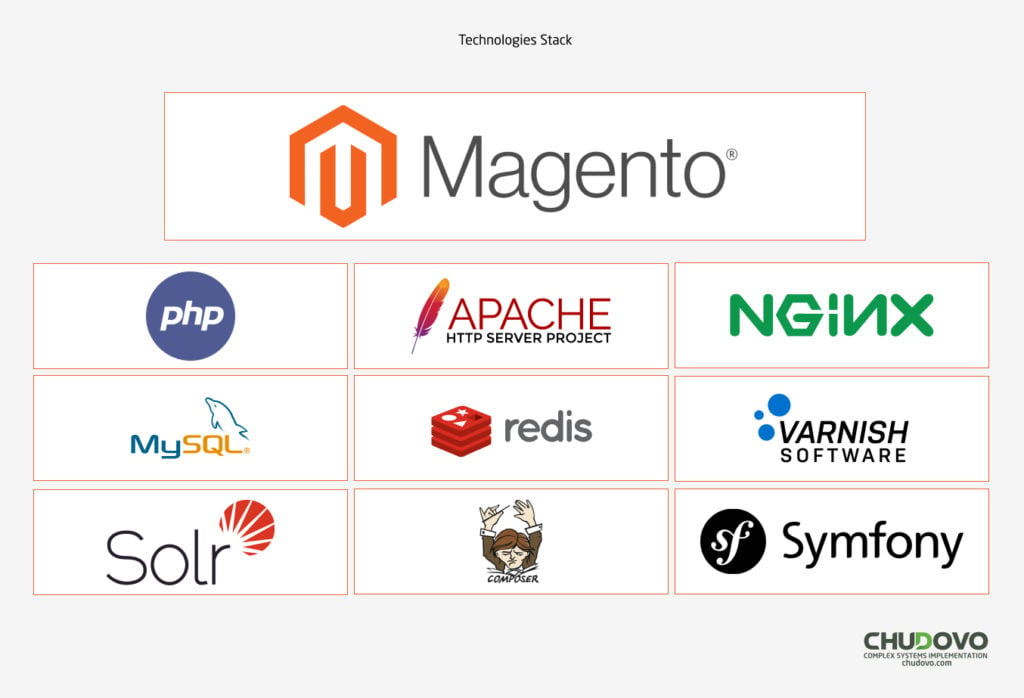 Magento is a high-modular structure and thus entails Magento developers to learn and work on advanced technologies. This helps the business owners to relish more efficiency and better performance of their Magento stores, ultimately making it easy to drive more traffic and accomplishing the goal of higher revenue.
Surprisingly, the new and updated version Magento 2 comprises new and advanced features in comparison to Magento 1, which was a bit slower. Being the better face or revamped version of Magento commerce, many eCommerce websites swapped their execution to Magento 2. Most importantly, it supports coding mechanisms and distinguished technologies that make it easy for developers to get hands-on technical aspects. But before that, let's first have a grasp of the difference between the technology stack of Magento 1 and Magento 2.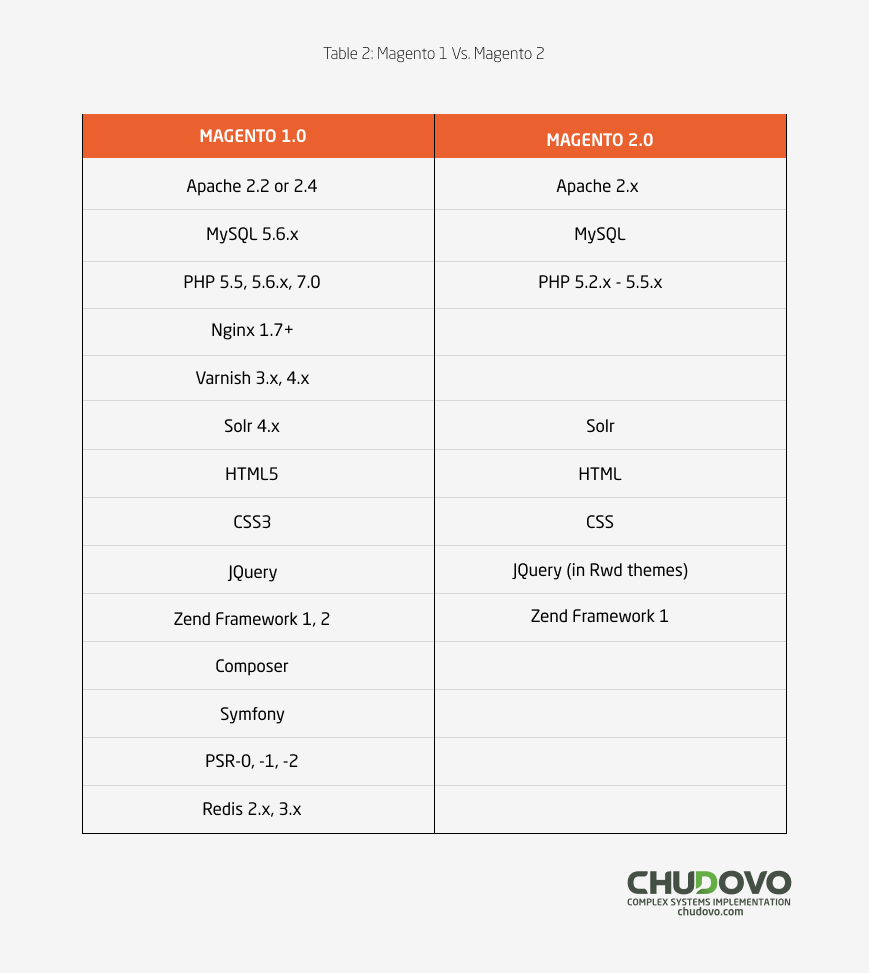 Other than new and updated in-built features of Magento 2.0 makes the latest Magento commerce well-designed to take eCommerce to the next level. Secondly, the fact that Magento 2.0 involves the use of advanced technologies in contrast to Magento 1 head toward more scope of improvisation in the field. To have an elaborated understanding of the concept, the below-mentioned are the essential elements of the Magento 2 technology stack.
PHP
PHP, the acronym for PHP: Hypertext Preprocessor, is a widely used scripted language in the world of web development. Magento community was relying on PHP 5 for a long time until the development of the Magento 2.0 version. The second yet updated version of Magento includes the use of PHP 5.5, 5.6.x, 7.0. The incredible part is that Magento developers are able to provide more efficiency to Magento stores as the coding experience becomes smoother.
Apache
Most of the PHP based application depends on Apache web servers including Magento. It is the most popular web server and offers tremendous reliability to the eCommerce platform. Magento 2 needs Apache 2.2 or 2.4 for better operations.
Nginx
Another widespread solution for speedy and intense resources is Nginx. In comparison to Apache, it works faster. Additionally, it helps the users to process pictures and enjoy standard security. Magento now supports it by default, which means it can be easily installed to facilitate multi protocols.
MySQL
In context to the Magento database, MySQL is the primary name. It helps Magento users to store information regarding products, categories, customers, and shipping orders. Magento 2 supports MySQL 5.6.x to access the benefits of high volume and time-saving.
Redis
Magento 2 supports a large expanse of data to keep in line with the varying needs of businesses and customers. For this reason, the Magento community uses Redis to keep a cache of information that is rarely edited. It is an alternative cache storage that allows the data to be stored in server memory. Overall, this improves the performance of Magento platforms even during high-traffic or when two customers simultaneously update the same data.
Varnish
The Varnish is the proxy accelerator or HTTP accelerator that offers enhanced productivity and flexibility by allowing for cache files or file fragments in memory. The integration of Varnish cache in Magento 2.0 head towards the rapid performance of eCommerce stores.
Solr
Solr, known as the search platform for eCommerce stores, helps the users to enjoy a power-packed full-text search engine. It can be set as the default search engine in Magento 2.0 for boosting the handling capabilities of the platform.
Composer
Composer is a PHP dependency manager or a third-party code management tool. Magento 2 uses Composer to package components and editions of products. In comparison to Magento 1, Magento 2 allows Magento developers to create new modules with the help of Composer. Besides, it also helps to install and manage the dependencies so that the users can have the right stack of projects based on PHP.
Symfony
More than Zend Framework, an open-source PHP-based web framework, Magento 2.0 depends more on Symfony. Known as the standard foundation with a set of PHP components, it helps the developers to prevent duplicate codes. However, along with Zend and Symfony-based framework, Magento developers also work with intermediate interfaces that pass the inquiries to lower levels.
Why Choose Magento?
Upon squinting the various reports and statistics regarding Magento eCommerce Development, it goes without saying that Magento is one of the cutting-edge eCommerce platforms for aspiring digital entrepreneurs. Today, more and more stores are inclining towards it because of flexibility, ultra-modern features, and a lot more. Here is a never-ending list of the top reasons why to choose the Magento platform over others.
Magento Is Open-Source Platform
One of the significant points that make Magento highly favored among enterprises of all scales is that it is open-source. In other words, from Magento download options to use its features, users do not have to worry about licensing and hidden fees. In lieu, they can harness the basic feature for free and modify it according to the business requirements. In the second place, a Magento web developer can improvise the program by adding suitable features and fixing the Magento issues during enforcement.
Magento Offers Constant Technical Support
The consistency in Magento support to both beginners and established business owners is another reason Magento is at the forefront of the digital world. Being the reputed agency, they provide 24/7 technical support to let the executors run the Magento website effectively and smoothly.
Be it security concerns, challenges in context to performance, or any other Magento issues, the technical team is ever-ready to resolve them, no matter the version of software one is using. Whether a B2B or B2C solution, they will help out for every kind of query or problem.
Magento Include Rich Features
Magento is a feature-rich platform that makes it convenient for users to manage their eCommerce business like a pro. From the beginning until the end, it allows one to grab the best out of the diverse features. A few of the essential in-built features in Magento include Site Management, Catalog Management, Product Browsing, Advanced Magento SEO Enhancements, Mobile Commerce, Order Management, Checkout, Payment & Shipping, and many more.
Magento Is Scalable And High-Performance Solution
Magento is the best fit for every kind of business because of its extensive scalability. One can start their eCommerce business with a limited number of products on a small scale and later on can expand by adding more products. In short, from small to giant business, Magento is a seamless choice to work in line with suitability. Even in the race of Magento vs Shopify, Magento dominates in terms of scalability as Shopify only matches well with small-scale businesses.
Magento Offer Language Support
No matter the location or language of the eCommerce user, one can opt for Magento without having any second thought. The major reason behind Magento download is incredible enough to support multiple languages and multiple currencies upon installation. Furthermore, it acts as a great opportunity for local business owners who yearn to expand their reach and branding on a global scale.
It is beyond the shadow of a doubt that Magento SEO (Search Engine Optimization) is key to drive more traffic and supplemental sale of the products or services. Surprisingly, Magento is already an SEO-friendly platform; that is, it allows Google and other Search Engines to crawl the Magento website to boost visibility.
The best part is that the platform also provides extended SEO possibilities so that the users can improve based on the updated SEO algorithm and the current competitive environment. Some of the basic ways that experts can adopt to eliminate the SEO Magento challenges are eliminating duplicate content, utilizing header and title tags, optimizing product page URLs, using proper keywords, optimizing product images, building an internal link network, including customer reviews, and etc. Besides, enhancing the loading speed of a Magento website or webpage also spike up the chances of achieving a higher ranking on search engines.
Magento Offers Easy Third-Party Integration
Magento store owners can take full advantage of Magento download by easily integrating the third-party integration tools. To be precise, Magento support lets users integrate their Magento website with essential third-party solutions such as Google tools, payment methods (Paypal, GPay, etc.), inventory management tools, and many others. All this helps one in easy-breezy operations and management of eCommerce tasks in their daily routine. What's even more fantastic is that Magento also provides a comprehensive guide to set up the configuration.
The plus points regarding Magento commerce development do not end here. Other than aforesaid benefits, the platform also allows the eCommerce business operators and Magento web developers to relish utter flexibility, efficiency, compatibility integrations, initiative interface, out-of-the-box functionality, Magento shopping carts facility and security.
MAGENTO MARKET SITUATION
Magento is one of the top eCommerce solutions worldwide. Ever since its beginning in 2007, Magento commerce has never failed to change the game of eCommerce and Content Management. This being the reason, the market share of Magento is 0.8% of all known websites in 2021. The results have been collected from W3Techs that, along with specific market share, also displayed the name of Magento's bigger competitors, including without CMS and with custom coded foundation. The overall report proves Magento as the ninth most popular eCommerce solution in the list of fifty-seven CMSs (Content Management Systems).
However, the fact that there are currently 187,500 live websites harnessing Magento. The surprising part is that almost all big brands like Burger King, Land Rover, Ford, Coca-Cola, Nike, and many more are part of Magento web development. In other words, Magento is in the first place along with WooCommerce when it comes to the top 10,000 eCommerce websites. All this is because Magento is more of an eCommerce solution with state-of-the-art features rather than just CMS.
Competitor Analysis Of Magento
The top competitors of Magento are WooCommerce, Squarespace, Shopify, WixStores, 100skelpow, MonsterCommerce, Amazon, Weebly eCommerce, PrestaShop, and BigCommerce. Where WooCommerce, Squarespace, and Shopify rank higher in the list in terms of market share and popularity, Magento holds an overall 2.83% market share taking the lead among many of these eCommerce solutions.
Strengths Of Magento
The ability of Magento to remain in the race for top-notch eCommerce solutions is something worth appreciating. From being open-source to providing a tremendous number of plugins and extensions makes it the proud choice of all the remarkable brands in the world. Below-mentioned is the uppermost strength of Magento support that makes it stand intact in the competition.
Open Source Yet Complete Commerce Solution
Magento isn't just confined to building the eCommerce website. It includes a native WCM module ( Page Builder) in the core commerce platform, which helps developers to integrate the website with other aspects of eCommerce. These are shipping, order management, payment methods, data and analytics, and other extensions.
In 2018, Magento was acquired by Adobe Inc, thus creating more room for improvements. As a result, eCommerce business owners can now have easy access to the suite as the system is directly integrated with Adobe solutions. After the acquisition, the larger client deals for Magento witnesses a spike, which was earlier just limited to SMBs only.
Extensions and Partner Ecosystem
The best part about Magento is that it has over 4800 extensions by third-party integrations. This helps e-stores owners to explore every bit of the field with quite ease and effectiveness. Furthermore, the large pool of Magento web developers and reliable technologies in the alliance is key towards the future prosperity of the platform.
Impact Of Magento on E-commerce
Magento is the first name that pops up in the mind of developers when it comes to the creation of eCommerce websites. It is astounding to note that Magento commerce development from the beginning until now provided the right set of circumstances for eCommerce businesses. Conversely, it can be said that Magento created a positive impact on the world of eCommerce.
All the credits should go to its high-tech features, utter flexibility, scalability, and user-friendly integrations that make the operation of eCommerce websites easy yet effective. Its efficacious tools like cross-sells and upsells help executors to attract a large number of customers for extensive sales and revenue in-store.
Other than eCommerce users, it also creates an extraordinary experience for customers by offering mobile-friendly themes. To put it simply, Magento web development is key to witness high-end prosperity and growth in the field of eCommerce, ultimately leading to a better future.
What is Magento's Future?
Being the top preference of remarkable brands, head towards the greater scope of Magento eCommerce development in the near future.
Progressive Web Apps By Adobe
Integration of Adobe and Magento is the highlight of Magento web development. One of the significant reasons is that Adobe has started making Progressive Web Apps for its customers and developers. Simply putting, the retailers will soon be able to provide an app-like experience to their eCommerce customers. As a result, e-stores will be able to drive more traffic and a hefty conversion rate in their store. Thus, in the future, the aspiring eCommerce business can grow in terms of revenue and ROI.
AI (Artificial Intelligence) is the key to innovation in the field of eCommerce. The integration of AI in Magento eCommerce has already innovated the way customers engage with websites. The option to create personalized products and chatting with Chatbots are seamless examples of this fact. Keeping this in mind, the interaction and engagement between customers and e-retailers will be quite instant and smooth as AI in Magento continues to develop.
Advanced Product Information Management
After Magento has collaborated with Akeneo, an open-source Product Information Management (PMS) company in France, it manages to ensure easy product creation and distribution on eCommerce stores. Moreover, from the aggregation of product information to launching new products, the advanced PIM helps in the production workflow. This ultimately results in blooming sales, revenue, and overall success of eCommerce businesses.
Verdict – There is no doubt that the concept of CMS (Content Management System) is gaining utter popularity as the number of e-stores is increasing. Though there are endless eCommerce solutions available to accomplish the goals of e-entrepreneurs, Magento is always a buzzword.
Looking at the aforesaid reports and statistics regarding Magento commerce development, it would not be wrong to say that the market share of Magento should continue to rise. However, it will take some time to cope up with the extensive competition. Overall, as a niche-focused preferred solution, Magento can be on the crest of the wave if the advancement in the platform will continue to escalate.
Demand On Magento Developers
Magento is an object-oriented PHP framework that is harnessed to create powerful and serviceable eCommerce websites to attract customers. Being one of the extraordinary platforms with state-of-the-art features, it is expected to grow in the future. It is why the demand for Magento developers has always remained substantial in previous years and has now reached more than 300,000 developers worldwide in 2021.
As the need for Magento commerce is not going anywhere, the requirements or vacancies for Magento developers in all parts of the world is expected to witness a significant hike. To prove the fact, here, we compared the number of developers for different programming languages from 2017 to 2018.
There were 23 million programmers in 2018, and it is expected to reach 29 million by 2024. It is because of the consistent inclination in eCommerce development. If the trend continues to prosper in the same way, the world can have more than 40 million software developers by 2030.
Catching the glimpse of a number of developers based on the programming language in 2017-2018, it is evident that JavaScript, Java, and PHP (the core languages in Magento web development) has the maximum impact on the software and the eCommerce world.
Verdict – Understanding the growing importance of programming language and open-source features for eCommerce development, it is beyond the shadow of doubt that demand for Magento developers is continuing to grow at a whopping scale.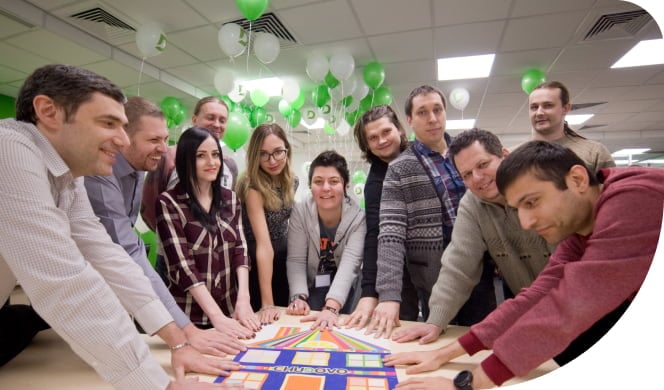 English and German
speaking engineers
MAGENTO DEVELOPER
Where 'Magento' is key to revamp the field of eCommerce, 'Magento Developers' are human resources behind in the background who make the goal possible with their manual proficiency and sound knowledge for technical concepts. To be precise, Magento Developers work to create or create new Magento websites or improve the already existing ones. They are like web developers but skilled with the Magento platform.
Typically, a team would need web developers and other professionals, along with Magento developers, to design and develop a website. The best part for an organization is that they can hire a Magento developer either as a freelancer or full-time employee in a Magento development company, depending upon the needs of the project and budget.
Freelance Magento Developers
Freelancing refers to working part-time at the comfort of one's home or full-time as a substitute for a job but with utter flexibility. The fact that freelancing jobs are on the spike in many parts of the world proves its significance in today's world. There are endless benefits to start as a freelance developer, especially in the case of beginners who constantly search for, 'what is magento'. Freelance work means flexibility of time and comfort of the home workspace, but as a rule they take part in different small Magento projects and cannot be hundred percent sure in stable income.
Magento Developers as Employees
Magento Developers can be hired as employees in an IT or eCommerce company. They are paid with a fixed amount of salary at the end of every month or start of a new month. In comparison to freelancers employees have a confidence in the future and stable income.
Magento Developer Portrait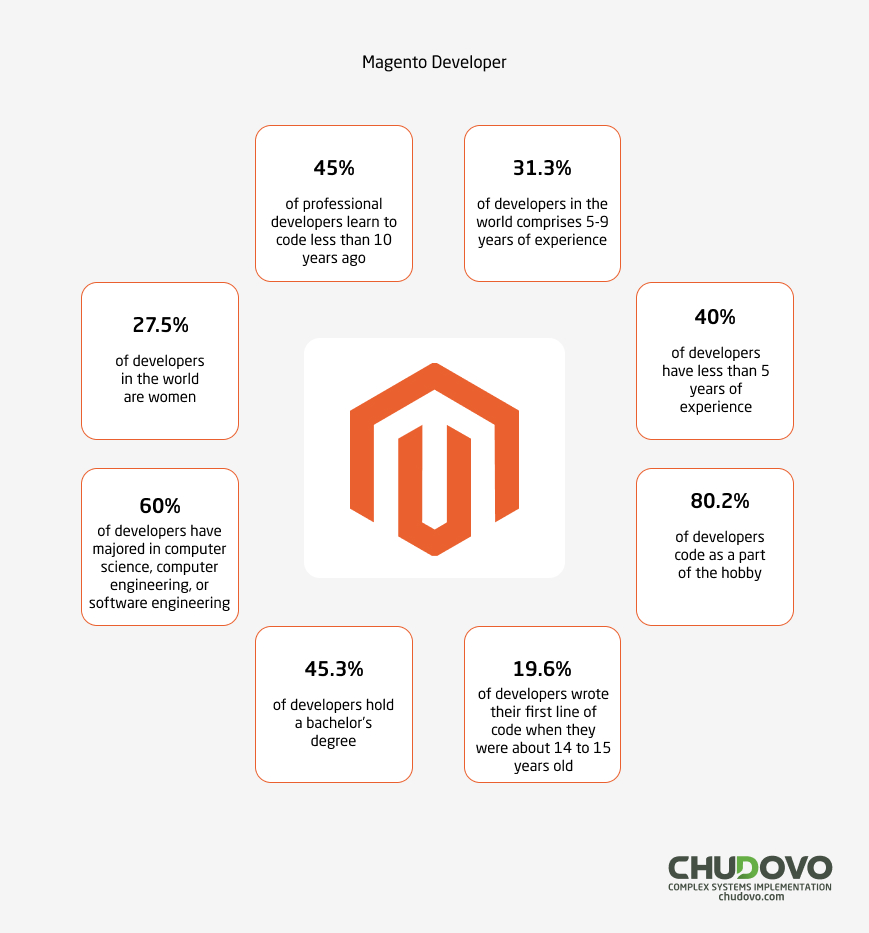 According to the Developer Survey of 2019, more than 45% of developers manage to learn to code less than ten years ago. This demonstrates that development and programming have been consequential since the past. To display the clear picture of Magento Developer Portrait, check-out the following stats and figures based on gender and years of experience.
Nearly 13% of developers are working as junior or mid-level software developer (upto 5 years experience). While the lowest count number of developers belongs to 50 years or more experience, the highest (31.3%), on the other hand, comprises 5 to 9 years experience. At this stage, developers retain senior-level or lead developer roles after passing the training period and accumulating a hefty amount of personal and professional experience in store.
The latest report says that 27.5% of developers are women. Out of the total, 33% of women believe that efficiency in development relies on their personal interest in the technology stack and curiosity for the same. Another astounding fact is that women used to write their first line of code later in contrast to men.
PHP Developer Portrait
Zippia has analysed 2,751 CVs of PHP developers in the USA to find out the demographics of these specialists. To provide a statistical data the research took place basing on age, sex, race. Additionally to the CVs analysis into consideration were taken PHP developers job offers as well as Census Bureau data.
Gender-based PHP developer portrait
The following graph shows the amount of women and men as PHP developers in the United States and their ratio over the time from 2008 to 2018.
Common Education of PHP Developers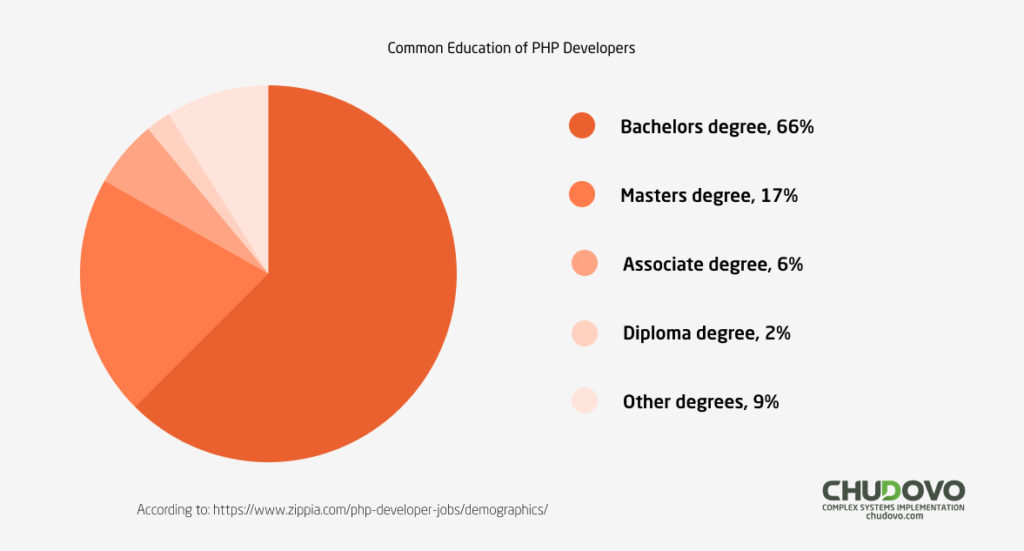 This graph shows the most common degrees of PHP Developers in the USA. According to the diagramm 66% of PHP developers get bachelor's degree, only 17% close master's degree and 6% – associate's degree.
Language-based PHP developer portrait
The diagram visualises the knowledge of foreign languages among the PHP developers in the USA. The chart illustrates that the most popular foreign language is Spanish and 57,1% know it. The second place takes Japanese with 9,5% and in the third place are Hawaiian, Hungarian and Cherokee with 4,8%.
PHP Developer's salary
Zippia conducted research and analysed salaries of PHP developers in the United States. Average PHP dev in the USA earns $80,037 per year and this is nearly $38.48 per hour. It is noticeable that the highest average salaries have PHP developers that work in Finance Industry, PHP devs that are involved in other Industries – earn a bit less.
PHP developer salary over time
Magento Developer Experience Level
Experience is always a crucial factor for employers to hire a candidate for a particular job role. Just like any of the roles in software development companies, employers also put forth varying experience requirements depending on the type of position and role they will play. Here's a brief description of each category:
Some software companies in Germany and other parts of the world hire career starters as Trainees or Junior Developers who have good theoretical knowledges as well as motivation and have performed exceptionally well during the interwies and execution of technical test task. Junior Magento developers work under the guidance of senior developers and gain practical software development experience.
However, they ought to have basic knowledge of technologies associated with Magento eCommerce and aspects of testing. They should also be familiar with PHP, a programming language used for developing Magento 2 code. Additionally, as a Frontend developer in Magento development, one should be skillful in HTML, CSS, and JavaScript. They are subject to diligent and fruitful training by the experts or seniors so that they end up becoming the Perfect Magento website developer.
Secondly, the essential attribute upon which candidates are selected for a junior position is their soft skills. In other words, they need to possess a professional working style, ethics and values, phenomenal client management and should be committed and dedicated to delivering quality work on time and meet the deadlines.
Middle (2-3 Years Experience)
In the case of middle positions, the leading e-Commerce companies in Germany demand 2-3 years of experience for the role of Magento developers. Middle developers should have good combination of soft skills and hard skills.
At this level, developers for the Magento platform are supposed to be self-skilled in liaising with the design team. They are asked to be prominent in setting Magento 1x and 2x websites for clients. In addition, they should have excellent object-oriented programming knowledge, the ability to build modules, testing the performance of websites, and customizing extensions.
To be selected for the role, one ought to hold the certificate of Magento development. In addition to technical soundness, it is the management skills of Magento employees that help them hit the jackpot and attain the position of senior or manager in the nearby future.
Senior (5 Years Experience)
The A-list eCommerce or software development companies in Germany require 5+ years of experience for the role of Senior Magento developer. The recruitment for Senior-level may happen in two ways. First is internal recruitment, that is, when middle developer is promoted to the senior-level based on his or her incredible performance for a consistent period. The second is external recruitment when the vacancy for the senior developer is filled from outside the organization.
In the case of external hiring, employees determine the proficiency of the candidate in line with previous experience and knowledge about the Magento platform. The employers also consider the refrences of different projects that the candidate has worked on in a previous firm. Besides, management skills is another foremost aspect that helps to become a senior developer in a reputed enterprise in Germany and other parts of the world.
Lead Developer ( min. 7 Years Experience)
In comparison to junior, middle and senior PHP developer positions, vacancies for Lead developer are less in number. They should have hands-on experience working on different aspects of Magento development, including core PHP, HTML, CSS, MySQL, JavaScript & Query, and plugins.
What's more vital for the position of Lead Developer is to be well-versed with the latest updates in context to Magento and its technology stack. They are also responsible for maintaining security and updating the features of websites as per the latest trends.
Above and beyond, Lead developers ought to possess efficient management and leadership qualities to train the junior developers under their guidance. For such responsibility, they have to set performance tasks and goals. Problem-solving is another key characteristic that one should possess for being a leader in the field.
Magento Developer Salary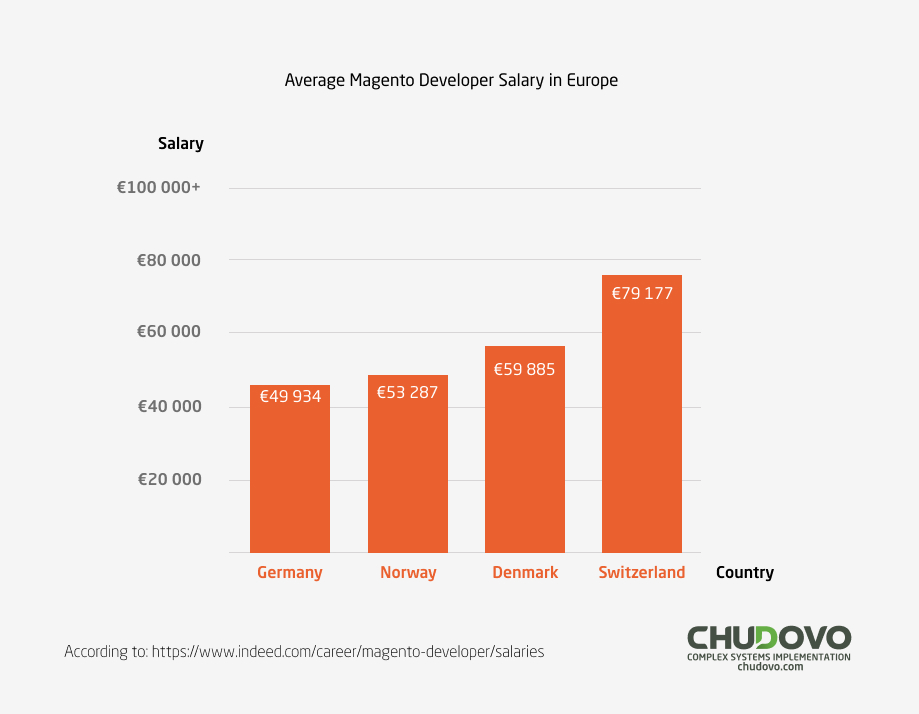 In compliance with years of experience, performance, and level of job, distinguished countries have their own set of Magento developer salary scales for Magento developers. According to the report by Indeed, 'US tops the list of best-paying countries for the role of software engineers'. Along with the United States, other countries that pay well to software developers are Switzerland, New Zealand, Norway, Denmark, United Kingdom, Sweden, Germany, Netherlands, Finland, Australia, and France.
Magento Developer Salary in the US
The average Magento developer salary in the US by 2021 is said to be around $110,638 annually. Out of the estimated expanse, where junior developers manage to earn $103,382, senior developers with 7+ years of experience are paid $121,488 per year in the US. The top cities in the US, being the hub for software development employees, including Magento website developers, are Chicago, San Francisco, New York, Dallas, Los Angeles, Miami, and Austin. Surprisingly, 44% of developers in the US consider their salary satisfied and enough to live with the standard.
Magento Developer Salary in Europe
Concerning the list of these nations, it goes without saying that Europe also plays a major role in the development of engineers or developers. Where the highest expanse of Magento developer salary in Europe is paid in Switzerland (€79,177), Norway (€53,288), and Denmark (€59,885).
According to Payscale, the highest software engineer salary in Europe is paid in Switzerland – €79,177, Denmark – €59,885, and Norway – €53,287 and per year. On the other hand, Germany also leads the race with more than €49,934 annually.
Magento Developer Salary In Germany
According to PayScale, the states of Germany offer €52,032 as an average annual remuneration to Junior developers, although the amount varies slightly based on the platform. On the other hand, senior developers manage to make an average of €63,418, which is relatively more in contrast to mid-level developers ( €59,233 per year). It is astonishing to note that Berlin, the place in Germany, is known to pay more than the national average to its software development employees, which is approximately €60,349 annually.
However, when it comes to comparing the salaries in connotation to different programming languages in Germany, PHP developers make the lowest. Simply stating, the average annual salary of PHP developers in Germany is estimated to be €47,125 by 2021. Relatively, the salaries for technology stack Java, C#, C++, .NET, and JavaScript, are more than PHP.
Additionally, the average salary for Magento Developers in Germany also varies in line with related skills. For instance, €44,484 for Network Support, €45,495 for JSON, €44,500 for IBM MQ Series, €44,585 for Information Technology (IT) support, $44,619 for Apache HTTP Server, €44,706 for Cascading Style Sheets (CSS), €44,731 for jQuery, and €45,377 for Web Development.
Typical Tasks For Magento Developers
Certainly, Magento is one of the cutting-edge eCommerce platforms that has broken new grounds for aspiring and established eCommerce retailers. The continuous improvements in its features and capabilities are all set to be the source of splendid success for the executors. To cope up with the backend and frontend process of Magento commerce development, professional Magento developers ought to accomplish certain types of tasks, either as a freelancer or full-time employee. Based on the role played, the tasks are classified into two categories. These are:
Frontend Magento DevelopersAs the name suggests, Frontend developers work or codes for the front end of a website. The significant goal of developers in this position is to ensure the effective implementation of Magento website design (created by web developers) on the web. A few of the common responsibilities of Front end developers include:

– Making sure that the website possesses a good design and is responsive enough for mobile and PC users;
– Bringing the goals into life by working on JavaScript, CSS, and CSS;
– Using markup language like HTML for creating web sites;
– Ensuring better user experience;
– Maintaining better SEO practices;
– Establishing software workflow management;
– Testing the site and fixing the bugs;
– Making an alliance with backend developers for enhancing the scalability of the website;
– Creating quality mockups and prototypes;
– Bringing high consistency in terms of graphics and standards;
– Staying up to date with Magento technologies;
– Asking and getting feedback from clients and customers for improvisation.

Backend Magento DevelopersBackend Magento developers are responsible for the integration of work done by Frontend Developers and write web services. They create features for websites via Magento extensions or bespoke code. Other than this, there extended roles and responsibilities include:

– Creating libraries for future use
– Optimizing the Magento website for data protection
– Developing new functionalities in line with product team requirements
– Ensuring consistent and smooth communication with clients and customers
– Creating usable and efficient document code
– Creating and implementing the solutions for data storage
– Ensuring the speed and scalability of the website
– Support project life cycle throughout
– Collaborating with front-end developers and other associated team members for brainstorming
– Ensuring better configuration, setup, and debug
– Implementing the project into the real environment
– Profiling project after its launch
Requirements For Magento Developers
With the ameliorating demand of Magento developers due to the extended trend of digital commerce, it is not a cakewalk to be selected as a full-time employee or even as a freelancer. One should possess or work upon the following list of skills to be ahead of the pack. Here are the requirements for Magento Developers that booming eCommerce companies ask for:
Knowledge Of Magento With Certification
The first thing that employers look for when they hire Magento developers is the certification as evidence of knowledge for the Magento platform. They should be proficient in accomplishing front-end and back-end development tasks and are entailed to implement the practices into real-world projects.
Knowledge of Programming Language
Magento is an eCommerce platform written out of PHP. A developer is supposed to be acquainted with its technology stack for further operations. Some of the significant languages that you should know before applying as a developer are HTML, CSS, and JavaScript. Where HTML and CSS are essential in building and designing the eCommerce website, JavaScript helps in adding custom functionality to it.
Widget Development Skills
To make the data viral, portable, and effective, a developer needs to possess strong widget development skills. This helps one to plug in extra features in Magento using a set of configuration options. In simpler words, it is the way by which a front-end developer brings millions of themes, plugins, and Magento templates into life for the betterment of customers.
Expertise In Several eCommerce Integration
Developers for the Magento platform should be sound in terms of several eCommerce integrations to create data processes and automate the whole workflow. It is vital for them to be familiar with various platforms such as payment gateway, ad-supported services, order management, shipping, and many more.
Knowledge Of CMS Theme Development
Magento web developers are required to be acquainted with CMS theme development, that is, creating distinguished designs for websites according to business requirements. This helps to attract more number of customers, ultimately resulting in hefty traffic and a boost in conversion rate.
Having A Grasp Of PSD and XHTML
Along with the familiarity with basic programming languages, developers should be prominent in converting PSD files into XHTML. The sound knowledge of these aspects let one ensure desired results and the ability to work with Magento templates.
Even though it is secondary, having a grasp of SEO practices can be a plus point when employers hire Magento developers. After all, it is a great aspect to improve the performance of a website and make it rank on top of the search engine to enhance visibility.
Knowledge Of Latest Trends And Technologies
Any employee in the software development field is asked to stay up-to-date in context with improved or newly introduced technologies. In the case of Magento eCommerce, the Magento development agency always makes sure that the developer is well-versed with current Magento trends so that they can explore all avenues while working on certain projects.
Better Communication Skills
Developers in Magento development agency are entailed to stay in collaboration with other teams for brainstorming ideas and fulfilling the requirements of the task. Secondly, they are also asked to have direct contact with clients for a better understanding of the project or for accessing feedback. All this requires a candidate to possess good communication skills.
Prominent Problem-Solving Skills
Magento eCommerce development is not merely about creating and designing but also about solving the issues or fixing the bug in the websites. It is why developers need to be good at problem-solving. A candidate is mostly judged by the Magento development agency on the basis of problem-solving when he or she applies for a senior position.
MOST COMMON PROBLEMS FOR THE MAGENTO DEVELOPERS
The concept of Magento development is often at one's wit ends for beginners. Even though the platform allows endless integrations and out-of-the-box features for top-notch operations, there are a few Magento issues that a developer may face during the course of the project. These are:
Problem 1 – Resetting The Admin Password
Developers at the beginner stage usually forget the admin password, due to which accessing the backend of the site becomes strenuous. However, this isn't something that cannot be resolved. One can change the admin password and set a new one by visiting cPanel phpMyAdmin Select database find admin_user table. Besides, make sure that the new password is added in the MD5 function.
Problem 2 – Slow Loading Speed Of Magento Website
As already discussed, the slow loading speed of a website or web page impacts the search engine's ranking and leads to the loss of desired traffic. A beginner with a lack of experience may end up hearing about such a mistake many times.
To speed the website, a developer needs to enable the Compilation function and make an alliance with a reliable hosting provider. This helps to boost the website performance in terms of speed up to 25% to 50%. Further, in case the problem is beyond normal, it is recommended to visit PageSpeed Insights to have a grasp of its cause. After optimizing the website against the problem, one should check the performance again by running the PageSpeed Insights test.
Problem 3 – Problem In Configuring Magento With New Domain
Juniors in Magento development company face the challenge of configuring Magento with a new domain. It is the case when trying to configure a Magento store with a new domain. Nevertheless, the problem can be solved by editing the database of the Magento store. To make this possible, visit MySQL Manager > Select Database > find core_config_data table > click browse tab web/unsecurebase_url to edit two fields. Thereupon, one ought to change the old domain name with the new one and save the changes by tapping on the Go option.
Secondly, deleting the Magento cache can also help developers to eliminate the problem of configuring Magento with a new domain. All one needs to do is to delete the cache folder in Magento root directory /var/cache, and then go to Magento admin system > Cache Management. From there, it is possible to clear all cache.
Problem 4 – Poor Ranking Of Website On Search Engine
Other than slow loading speed, there are bags of reasons behind the poor ranking of the Magento website on the search engine. It is why collaborating with SEO analysts for effective Magento support is one of the crucial parts of the project. Below-mentioned is the mindful way to resolve the problem to a greater extent.
To enable the Search Engine Friendly URLs, login to Magento admin area > click on Configuration button > click on Web on the left panel. From there, hit Search Engine Optimization (SEO) tab and mark 'yes' on use Web Server Rewrites. Lastly, one has to click on the 'Save Config' button to enable SEO-friendly URLs. This will help search engines index websites in a better way, thus making them rank higher.
Generating Google SiteMaps helps to structure the pages on a website and thus makes it easy for the search engines to crawl. It can be made possible with URLs for product pages, category pages, and CMS pages. In addition, it is important to note that Google SiteMaps for Magento websites are supported by Yahoo and Microsoft Bing.
Other Basic Magento SEO To-Dos
The concept of Magento SEO is quite vast and entails consideration of various practices for improving the ranking of the website. Some of the basics include using relevant keywords, updating original and exclusive content, building link networks, and many more. Furthermore, one can have access to the Magento tutorial by Adobe in connotation to eCommerce SEO success.
Where to Find Good Magento Developers
Finding a good Magento developer is in your best interest. There are a lot of developers sitting with an amazing understanding and knowledge of the Magento development platform, waiting for the right opportunity to flourish. Do you think your organization can provide these developers with the right environment to grow and use their skills to develop your business? The best place to look for Magento developers is Chudovo, an online community of highly skilled and adept developers boasting domain expertise. With Chudovo, you can get in touch with industry experts and hire them for your development work.
We take pride in sharing that our experts have everything required by a growing organization for scaling and developing their operations. Hiring a Magento programmer is easy with Chudovo as we have segregated the developers according to their field of experience and understanding of the technology. Other platforms other than Chudovo to hire Magento developers include Toptal, Upwork, GeeksPerHour, Stack Overflow, and PeoplePerHour. These are also online platforms that have verified Magento developer's profiles available for public view.
Out of these platforms, Toptal will get you the most authentic results for Magento developers as it is dedicated to helping companies find the best developers.
How to Hire a Top Magento Developer
To hire Magento developer, you need to follow the right process. We have listed the prerequisites of hiring a Magento programmer above. In addition to that, try to look for a developer who will fit right into your organization like a glove.
It won't be easy except for the time when you are working with Chudovo. Chudovo gives you access to highly qualified Magento developers who are good at development. In addition to that, they are also good human beings and can harmonize with the company culture.
A good developer is not only about technical skills; if you want your company to achieve new heights, but you also need to hire good people and not just good techies. Chudovo is a market expert in building Magento-powered solutions, but they can also help you with finding an awesome Magento developer.
Furthermore, you need people who have the potential to grow and bring their knowledge into practice while developing your solutions. As the entire development industry is skyrocketing, developers who are familiar with these developments are pivotal to the company's progress.
Start working with Chudovo today to build your team of in-house or remote Magento developers. When it comes to hiring Magento developers, your eye for detail and understanding of the importance of selecting the right person is imperative.
HOW TO BECOME MAGENTO DEVELOPER
Magento open-source platform is key to fascinated success for developers who yearns to establish their footsteps in the eCommerce industry. With the growing demand for developers, one needs to be quite dexterous in the field. However, as they say, "There is nothing impossible for believers," becoming a Magento developer in a Magento development agency with the right set of qualifications, knowledge, and experience. Here's how one can achieve their goal.
Every junior in the field who does not know much 'what is Magento' ought to start with the basics of Magento commerce development. The foremost is to learn the programming language and how to code with HTML, CSS, JavaScript, and XML. Secondly, it is quite essential to be a pro in PHP language, especially when one applies as a developer for Magento 2. In addition, knowledge of OOP, MVC architecture, and modular development rules is a plus point.
One should also learn the basics of SEO to avoid the problems such as slow loading speed, errors in keyword optimization, or other challenges that impact the ranking of the Magento eCommerce websites. Surprisingly, many Magento tutorials are based on eCommerce SEO and thus can help one in acknowledging the basics.
Learning about Magento platforms is possible by downloading and harnessing its test version. Various aspects such as the launch of new products, Magento shopping carts rules, catalog price, and others can be learned by having practical implications of Magento features.
There are myriad other finest ways to learn and become a Magento eCommerce developer. These comprise enrolling in Magento courses, going through Magento blogs and Youtube Magento tutorials, beginning as a freelancer, attending Magento community events, and taking Magento certifications course for the same.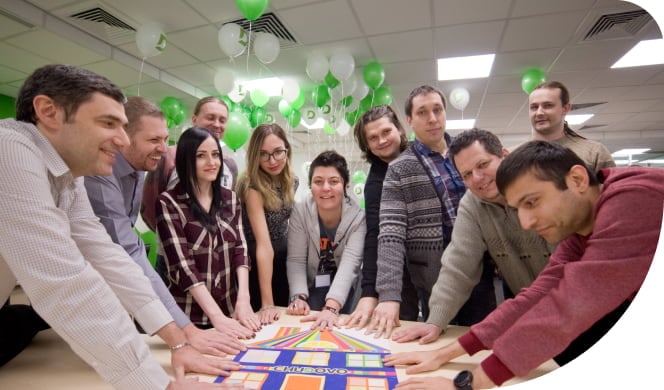 Looking for a new challenge?
Magento Developer Education
An aspiring Magento eCommerce developer should hold an associated bachelor's (BE, BTECH, or BSC in computer science) or Master's degree (MSC, MCA) from a reputed college or university. This helps individuals to be familiar with technology stack uses in technical solutions and makes them learn the different programming languages. Magento certifications and Magento tutorials are additional aspects that help one learn the fundamentals of Magento.
Career Change
There are many carrear starters who don't hold bachelor's degrees in science and engineering but wish to be on the crest of a wave in Magento eCommerce development. This might be due to their whopping interest in the eCommerce arena. Even though it is slightly difficult for a non-programmer to get into the field, learning the following set of skills will surely help.
Technical Skills – Employers demand specific technical skills when they hire Magento developers for their agency. These include theme development skills, knowledge of programming languages, clean development and testing, eCommerce integration, and basics of SEO. All this can be learned online via professional Magento tutorials by enrolling in a short diploma course offered by a reputed institute.
Interpersonal Skills – The intangible qualities that a Magento development agency requires for a developer role are productivity, creativity, innovation, flexibility, team-spirit, and eagerness to learn. One should also be prominent in communication and problem-solving.
Magento Certifications
Magento 2 Certified Associate Developer
Magento 2 Certified Associate Developer is an exam for the software engineers, who want to start their career as Magento developers. It is a good knowledge check for the specialists with basic overview of Magento fundamentals. Experience with PHP, MySql, Linux, Apache/Nginx would be beneficial. Magento certification exam questions include following topics:
Understanding of module-based Magento architecture and customization techniques;
Request flow processing;
Magento UI customization (f.e. the skills to customize UI using themes; customizations using a mix of template and block; using layout XML directives in customizations; adding content to the pages using layout XML etc.);
Work with the Databases in Magento;
Developing with Adminhtml;
Magento business logic customization.
Magento 2 Certified Professional Developer
Magento 2 Certified Professional Developer is a developer with deep knowledge in customizations of different areas of Magento platform. This exam will verify the skills in UI modifications, checkout process customizations, admin modifications, DB changes, order management customizations and modifications, functionality changes, catalog structure changes. For successful Magento developer certification it is recommended to have 1,5 years hands-on experience in Magento customizations. The exam verifies following knowledge areas:
Understanding of Magento's module-based architecture and customization techniques;
Request flow processing;
Magento UI customization skills (f.e. work with themes and ability to utilize template structure; work with blocks; ability to use layout and XML schema; utilizing Javascript in Magento);
Work with the Databases in Magento;
Understanding of Entity-Attribute-Value (EAV) model and ability to use it;
Developing with Adminhtml;
Customization of catalog and checkout process;
Ability to customize sales operations (integrations with third-party ERP-systems, order processing flow, invoicing process customization, refund functionality);
Customer management functionality customizations.
Magento 2 Certified Professional Developer Plus
Magento 2 Certified Professional Developer Plus is a senior developer/architect with proficient knowledge in Magento 2. This specialist should work at least 2 years with customizations of different areas of Magento platform, have an experience in leading Magento projects as well as teams, making technical decisions, collaboration with customers in order to build project requirements. Magento 2 certification has questions that are related to following topics:
Understanding of Magento's module-based architecture;
Magento UI knowledges (f.e. understanding of UiComponents architecture, Magento layouts, Magento blocks and templates);
Work with the Databases in Magento;
Understanding of EAV model and ability to use it;
Developing with Adminhtml;
Customization of catalog;
Customization of checkout process;
Magento Commerce Features;
Understanding Magento Security (f.e. frontend security with Magento, Adminhtml security with Magento, different types of attacks and preventing them).
Magento 2 Certified Solution Specialist
Magento 2 Certified Solution Specialist is an expert user of Magento 2 Commerce Platform. This exam can be passed by QA, BA, PM, UX Designer, Web Designer, Account Manager, Magento platform user, e-commerce consultant and strategist. This exam will verify the knowledge from the point of view of business perspective. Magento certification covers the following areas:
E-Commerce;
Magento architecture;
Magento Admin and storefront;
Business and applications;
Catalog (f.e. how to use products, different product types, categories, product attributes, ability to scale catalogs and to configure inventory management).
Magento 2 Certified Professional Cloud Developer
Magento 2 Certified Professional Cloud Developer is a developer/architect with proficient knowledge in Magento 2 Commerce Cloud and 6-12 month hands-on experience development using it. For the developer, who has a plan to pass the exam, it is recommended to have experience working on two cloud projects.Topics that are verified on the exam:
Fundamentals of Commerce Cloud (Magento Cloud overview, understanding of how to locate settings with Cloud Admin UI, ability to manage users, understanding of differences between Starter and Pro Cloud Plans, understanding of how operate different environment types);
Ability to set up local environment and to use the Magento-cloud CLI tool;
Cloud configuration;
Service configuration;
Deployment processes;
Static content deployment;
Development skills;
Troubleshooting skills;
Go Live and Maintenance.
Magento 2 Certified Professional JavaScript Developer
Magento 2 Certified Professional JavaScript Developer is a developer with extensive knowledge as well as practical experience in implementation and customisation of Javascript modules. An exam validates if software engineer has an understanding of core Magento Javascript framework, is aware of best practices and knows how to use the components correctly. To pass the exam it is recommended to have one year hands-on experience in Magento JS customisation. The exam verifies developer's knowledges and covers following topics:
Understanding of jQuery UI Widgets;
Understanding of Knockout.js – a library based on MVVM design pattern that simplifies dynamic JS UIs;
Understanding of Require.js – Javascript file loader;
Understanding of Underscore.js – library that offers useful utility functions for Javascript engineers;
Understanding of Magento Javascript basics like Javascript files organisation, types of Magento JS modules, methods of executing JS modules, ways to customize modules etc;
Understanding of Magento Core Javascript library;
Understanding of Magento UI components structure, the ability to use and customize UI components, knowledge about grids and forms;
Understanding of checkout architecture and payments.
Magento 2 Certified Professional Front End Developer
Magento 2 Certified Professional Front End Developer is a developer who can modify the UI using best practices and has deep knowledge in Magento theming components. This software engineer should be able to create Magento themes and to customize them. To pass the exam it is recommended to have 1,5 years experience in Magento 2 development. Magento frontend development certification covers following areas:
Themes creation;
Design-related system configuration;
Understanding layout XML elements and their purpose;
Creation and customisation of template files;
Static asset deployment;
Creation and customisation of Javascript components;
LESS/CSS;
Customization of Magento pages;
Understanding of translation topics;
Understanding of console commands and configuring Magento cash types.
Magento Community Events
Magento Commerce and many leading-edge Magento development companies organized events for Magento eCommerce developers or partners. Where most events and conferences are held face-to-face for better collaboration and interaction, the pandemic forced the community to arrange virtually this time. Among Magento community events 2023 are following:
| | | |
| --- | --- | --- |
| Date | Event | Topic |
| February 15-16 | Meet Magento Florida | This is one of the most interesting events that brings together Adobe Commerce and Magento profis, skilled developers and industry leaders, retailers, merchants and service providers. |
| March 19-20 | Re-Imagine, Preconference | Re-Imagine takes place in Las Vegas. It is a kick-off event before the Adobe Summit. |
| March 21-23 | Adobe Summit 2023 | The attendees can either visit the event in person in Las Vegas or use the option of virtual availability of conference materials. |
MAGENTO DEVELOPER CV/RESUME
CV/Resume for Magento Developer requires the specific sections to ensure the best impression in the eyes of hiring committees of Magento development company. The core sections include Experience in the previous firm, Education, Technical Skills, Interpersonal Skills, Projects accomplished, Magento certifications (if any), and Languages Known. Below are examples of a resume for all levels Magento Developer.
Junior Magento Developer
Middle Magento Developer
Senior Magento Developer
CONCLUSION
Magento is the powerful E-Commerce solution meant to bring ground-breaking innovation in the field of e-Commerce. Concerning the overwhelming response of bigger brands, Magento is all set to break new grounds in the near future by overcoming the existing challenges and loopholes. Besides, the latest editions and a handful of improvements in the form of Magento 2 is a key towards better eCommerce operations for small, medium, and large-sized enterprises.
The fact that Magento commerce development is at the forefront of the modern world bring-in golden opportunities for the candidates who wish to be Magento developers, either as freelancers or full-time employees in leading companies.
Thus, for every candidate who is fascinated to get their dream job as a Magento eCommerce developer, it is high time to step into the field with the right perspective in mind. Make sure to keep in mind the essential attributes of becoming the best developer to blaze the trail. Hire Magento engineers at Chudovo for successful implementation of your projects!
Talk to us
Let's talk about your project!
We will contact you as soon as possible