Steps To Take Your E-Commerce To The Next Level
Consumers have a plethora of e-commerce sites to choose from for their online shopping needs. There are the heavyweights like Amazon and Flipkart to standalone online retailers. Being successful among the many e-commerce service providers can get difficult in the cutthroat competition.
To grow the business and carve a niche for themselves in the over-saturated market, e-commerce business owners need to continuously enhance and optimize their business operations. Simply having elegant, attractive e-commerce sites won't do. The business will stagnate at some point or the other.
Successful e commerce companies have constantly innovated and improved their business operations periodically, helping them reach the position they are in today. To help you in your e-commerce business growth, we have discussed some factors that can help you take your business, irrespective of the types of e-commerce niches you cater to, to the next level.
Check Your Current E-commerce Platform
You already know what is e-commerce business is and how to keep it up and running on a small scale. But, now it is time to grow and expand. But, before doing that, checking the current situation of the e-commerce platform is essential.
Check, identify, and remove any bottlenecks that are currently present on the platform. Iron out any inconsistencies, bugs, or broken things. The website might have trivial issues like broken links, missing product descriptions, or major issues like payment processing issues, SEO, or site reliability.
Depending on the issue, the website might need simple tweaks and maintenance, or you might even need to switch to different types of e-commerce platforms before settling on one. If switching platforms is too risky, find and hire freelancers or agencies for website maintenance. Before making any decisions regarding an upgrade, analyze where the website currently stands in terms of functionality. Once everything is sorted, it's time to upgrade the website branding.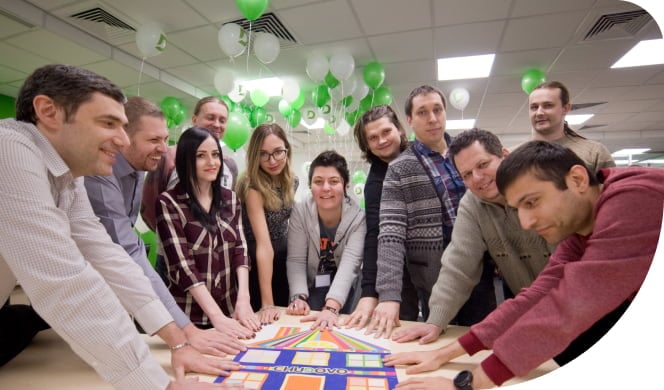 English and German
speaking engineers
Upgrade Your E-Commerce Branding
Thinking about an Amazon or a Flipkart entices a particular image and emotion about the e commerce sites. It is because they have crafted a particular branding that has become synonymous with these platforms.
Similarly, to take your e-commerce service and business to the next level, you will need to put a strong rebranding strategy in place. Most businesses, including e-commerce, change over the years. Think for yourself. Does the original branding match your current business? Most probably, the answer will be NO.
Choose a website theme that appeals to the audience and resonates with your brand. Select the website colors, layout, font style, and other elements accordingly. Add high-quality product images, concise product descriptions, and a quick and secure transaction platform. Similarly, provide top-notch customer support and after-sales service to build a customer-friendly reputation.
SEO Optimization for Your E-Commerce
Growing the website's reach organically through search engines is crucial for the growth of the e-commerce business. Search Engine Optimization (SEO) is the process of optimizing the website to have it rank higher on Google, Bing, Yahoo, and other search engines.
Refresh and improve the content on the website by using both on-page and off-page SEO strategies. This includes updating the website's content by using focused keywords, enhancing the URL structure, improving the website speed, developing a responsive UI that is mobile and desktop-friendly.
Having a high-quality SEO strategy will help grow your brand presence and value and drive organic traffic to the website. This will lead to higher conversions and generated revenue. Thus, SEO shouldn't be ignored when looking to grow an e-commerce business. Similarly, check for SEO e-commerce trends and what your competitors are doing to improve their operations.
Mobile Optimization
More and more customers are using a mobile device for online shopping. Thus, having a mobile-optimized website is essential for customer acquisition, retention, and conversion. Similarly, mobile optimization is necessary to ensure that the website complies with Google's guidelines and ranks higher on search results.
Some mobile optimization techniques include having an easy-to-use interface, low load times, and an easy-to-use, secure, fast payment gateway. If the website is not mobile-optimized, you will likely lose out on a huge chunk of potential customers.
Photography & Graphic Design
Customers want to get as many details about the products as possible before purchasing. One of the major ways they can do this is by checking product pictures. Sometimes, the absence or presence of a product picture can mean the difference between making a sale or losing out on one.
Keep the website updated with professional, high-quality product images from various angles to help customers get a better idea about the product. Additionally, include close-ups, color variations, product dimensions, and other information that can boost the customer's confidence.
Conclusion
We hope that this blog will help you in your quest for scaling your e-commerce business. The key to reaping the benefits of e commerce business is to keep improving and growing constantly. While it may sound simple, it definitely is not. You need the know-how of the latest e-commerce trends, dedication, determination, focus, and the right strategy in place to succeed.
If you want to know more about how you can take your e commerce business to the next level seamlessly, feel free to connect with us.
Talk to us
Let's talk about your project!
We will contact you as soon as possible