10 Important E-commerce Trends in 2021
Needless to say, 2021 is all about online shopping. Astonishingly, the breakout of COVID-19 made possible the ten years of e-Commerce development in merely 90 days. At present, the industry is at the heights of growth and expected to break all the past records in the near future. The hype of new trends in the e-Commerce world, regardless of the niche, says it all.
Aspiring entrepreneurs are quite joyful and eager to jump on the bandwagon by making the best out of the latest online shopping trends. In short, they can achieve splendid success once they are enlightened with the existing opportunities and streamlined methodologies. Nevertheless, for those who are still scratching their head regarding the future of e-Commerce, here is a list of new eCommerce trends that will grab the golden opportunity.
Why Are Ecommerce Trends So Important
There is no doubt for a response to why is eCommerce important as it has significantly turned out to be a gold mine for new-generation entrepreneurs. The advancement of technologies, proliferation in the customer's demands, and development of digitalization all these are the reason behind the positive e-Commerce trends. As a consequence, more and more people yearn to invest in the eCommerce business to hit the jackpot.
However, the only concern is the extensive boom in the competition that entails one to be quite strategic and out of the box. This holds true for both beginners and already established business owners in the eCommerce industry. That's where the right set of knowledge regarding trends in eCommerce enters into play.
In other words, business executors ought to monitor the new trends in eCommerce to stay ahead of the competition. Unable to keep in line with online trends can, unfortunately, result in a nosedive for the business, no matter how mature it is. Likewise, late American business personality John D. Rockefeller used to say, "If you want to succeed, you should strike out on new paths, rather than travel the worn paths of accepted success."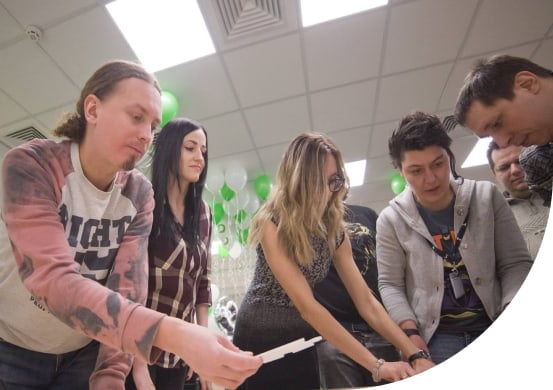 Looking for a Certified Magento Developer for your project?
English and German
speaking engineers
Top Ecommerce Trends In 2021
Concerning the spike in customer's inclination towards online shopping trends, it is beyond the shadow of a doubt that the future of eCommerce is all-bright. Be it a beginner or a leader in the industry; everyone can make the best out of the new eCommerce trends. Below-mentioned are the top 10 state-of-the-art online trends that can help one have an insight into a radiant eCommerce future.
Mobile Shopping is Growing
According to a recent report, mobile commerce sales are expected to reach $3.56 trillion in 2021, which is 22.3 percent more in contrast to 2020. The reason being, more than three billion folks in the world harness smartphones, ultimately making the concept of mobile commerce (M-commerce) utterly significant.
The evident importance of mobile commerce in context to updated shopping trends helps business owners to take new roads to success. With being a buzzword in present times, M-commerce is a way to reach more visitors and gain an extra surplus. The additional benefits of mobile commerce in context to retail eCommerce trends include:
Reaching Right Customers At The Right Time
"A satisfied customer is the best business strategy of all," said Michael LeBoeuf, a popular American Businessman. This is true to a great extent as it is the accomplishment of customer satisfaction that helps businesses be on the crest of the wave. Surprisingly, the new trends related to mobile commerce development can make this possible.
Businesses can  mobile applications development to reach customers at the right time. The features such as geo-tracking and programmatic advertising help one to evaluate the activity of customers and make the best out of the situation by sending the right message.
Ensure Better Customer Experience
As already said, customer experience plays an indispensable role in the prosperity of business. For business owners, m-commerce buying trends can be insightful in accessing the current customer's needs and their change in preference. As a result of which, they can ensure the improvement in their products and services to present utter customer satisfaction. Besides, the personalized features and easily received notifications can also bring a smile to customers' faces.
The Future of Ecommerce After COVID-19
There is no denying the fact that COVID-19 has a noteworthy impact on the business world. Where some of the particular niches got influenced negatively, the overall result seems to be in favor of eCommerce businesses.
According to recent studies, the average items per order shoot up by 60% during COVID-19. Wix eCommerce proposed that online gift stores alone witnessed 490% YOY growth in gross merchandise value. Besides, there is also a finding that 44% of consumers tried a new brand during the down-in-the-dump period of lockdown.
In short, COVID-19 made people realize that why is eCommerce important. In fact, experts are of the view that it is just the beginning of eCommerce development. With shoppers slowly leaning towards online shopping and getting used to it, the future of eCommerce is predicted to be golden.
Online Sales Growth is Unstoppable
Another astounding retail eCommerce trend covers the facts about unstoppable growth of the industry due to plentiful reasons, with the impact of COVID-19 being the top. In 2017, e-Commerce was responsible for making $2.3 trillion in sales worldwide. And, the expanse is expected to be more than double, that is $4.5 trillion, by the end of 2021. To a little more surprise, it is predicted that 95% of sales will be made online by 2040.
Though the proportion of development in the eCommerce business for sale varies according to the region, the overall results were found to be on a magnifying track. No doubt, the surge in online trends during COVID-19 brought headway in the industry; there are also a few other reasons behind the new trends. These are:
As more and more people are becoming bright-eyed and bushy-tailed towards the use of social media, established eCommerce businesses for sale are seeking this as an opportunity by integrating platforms with their service. From eCommerce marketing to the selling of products, social media helps businesses to handle every aspect smoothly.
Customers are quite happier when they are delivered with personalized products or services. It is why eCommerce websites are becoming the top choice of modern shoppers, as unlike traditional stores, online stores offer more choices and options of customization.
Extending Importance of SEO
Search Engine Optimization (SEO) includes all the techniques in compliance with Google algorithms that helps to drive more traffic to the website. Better SEO head towards improved ranking on search engines, which in return let business relish enhanced visibility. Amazingly, it is one of the major secrets behind the success of eCommerce marketing.
More Ways To Pay
Customers have varying preferences in terms of online payment methods. Be it cash on delivery or digital payment; top eCommerce sites provide all options for a better customer experience. Some of the most popular payment methods in the eCommerce business for sale include cash, bank transfer, eWallets, credit/debit card, cryptocurrency, and direct carrier payments.
As per the recent eCommerce technology trends, 36% of online shoppers prefer eWallets over other categories of payment options. The methods of debit and credit card payment are also famous worldwide. It is the innovative trends in eCommerce industry in terms of extended payment methods that make customers feel more satisfied. Aspiring entrepreneurs can grab this as a technique to provide the ultimate customer experience for businesses to hit a home run.
Customers Respond To Videos
Videos in eCommerce marketing are another cornerstone of developing eCommerce technology trends. The fact that videos are a tremendous way to engage customers online makes it one of the crucial elements of eCommerce marketing. The new trends in eCommerce state that 89% of video marketers find the video as a great source of the desired ROI.
As James Wedmore once said, "Video is an effective form of communication that needs to be integrated into each and every aspect of marketing efforts." In short, an e-Commerce business can consider video and visuals as tools to better eCommerce marketing in the future.
Evolving Role Of Social Media In E-Commerce
The numbers of users on social media are more than 3.5 billion worldwide, out of which 87% believe that social media helps in making better purchasing decisions. Simply put, social media platforms are key to the consistent growth in the eCommerce industry. This being the reason, the role of social media counts to be on the top of online trends.
With the introduction of new options such as an 'Instagram shop,' 'Instagram Checkout, 'Buy' Button on Facebook, and other eCommerce technology trends, a business can go innovative to reach potential customers. This especially holds true in the case of beginners who wish to start on a small scale. Not only will this help to boost authentic engagement and traffic, but it also leads to a higher search engine ranking.
Online Buying Will Not Be Limited to B2C Products
Undeniably, B2C (Business To Customers) trading in the eCommerce industry is the major reason behind extensive development. However, the eCommerce future is not merely confined to it. Likewise, B2C eCommerce websites now also offer B2B (Business to business) products to let the flow of trade be smooth and progressive. Chinese-based Alibaba is the seamless example of these new eCommerce trends as it connects B2B eCommerce businesses instead of selling directly.
The experts say that B2B is expecting a growth of 25%. As a result, they are planning to invest enthusiastically in the market and technical strategies, ultimately bringing a positive shift in eCommerce technology trends.
Augmented Reality Transforms How We Shop
Another jargon in the list of recent eCommerce technology trends comprises the power of Augmented Reality (AR). Surprisingly, it has been found that 120,000 online stores will be going to implement AR by 2020. After all, it serves endless benefits to the eCommerce business owners and customers and paves the way for new grounds.
As claimed in new trends, Augmented Reality helps to bring more value to the business by boosting customer engagement. It is also a great way to ensure a better customer experience and reduce return as it makes the online products tangible.
The best example of eCommerce niches that are keeping in line with this state-of-the-art eCommerce technology trend is apparel and cosmetics. Many of such top eCommerce sites allow customers to try virtually before they buy. Concerning this, it would not be wrong to say that AR is the present and future of eCommerce.
Visual Commerce Is On The Rise
Aspiring entrepreneurs will be astounded on finding that many online retailers turned to 3D products post-COVID. In other words, COVID-19 has swapped the way one used to do eCommerce business. Visual commerce is now at the forefront of retail eCommerce trends and making it easy for business owners to attract customers.
Visual commerce such as images, interactive content, engaging videos, user-generated media, and etc., mounts an eCommerce future and provides a way to enhance selling opportunities. It is one of the new trends that creates an exciting environment to let retailers and shoppers connect with each other.
Personalization Is The Future
Personalization or customization is a buzzword when it comes to the latest buying trends. According to the stats mentioned by Forbes, 80% of consumers are more likely to buy from the brand that offers personalized products. This online trend provides eCommerce entrepreneurs with a strategy to bloom in the field.
Known as the future of eCommerce, personalized products and services can help owners to retain customers and boost customer loyalty. Not only will this head towards more sales, but it also helps businesses enjoy the word of mouth advertising.
Takeaways
E-commerce is one of the fastest-growing industries with consistently latest online shopping trends. With the changing trends in the eCommerce industry, business executors entail updating their strategies and methodologies to beat the competition.
Be it the power of social media, Augmented Reality, personalization, and other aspects, the new eCommerce trends are enlightening for business owners to make headway in the industry.
Are you still possessing a lack of conviction regarding new eCommerce trends in 2021? Reach us today to have an insight into a clear picture. Being specialists in the arena, we can ensure you a better alliance to let you be on the cutting-edge.
Talk to us
Let's talk about your project!
We will contact you as soon as possible