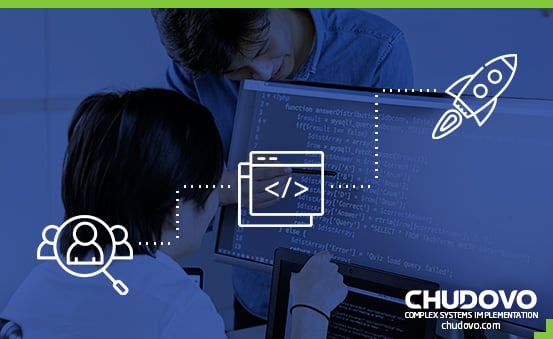 Hire Software Developers Team for a Startup
When a tech startup comes to the MVP development stage, the sole core team efforts might become insufficient. To develop and then maintain, improve, and update the viable product, owners face the need to scale their team and hire in-house IT specialists or opt for outsourcing. Startup growth also demands team extension, so finding the optimal recruitment solutions is essential in later stages too.
Challenges of growing startup teams
Before startup owner begins the recruitment process, they need to perform detailed research to determine what issues they may face. It is equally essential to hire remote developers and an in-house team, so it makes sense to consider the most frequent challenges related to scaling personnel.
Hiring issues
A growing startup can hardly make a competitive offer for developers compared to large stable businesses. Although your investors might be ready to pay talents, skilled and experienced IT specialists often prefer dealing with established companies that can provide them with more guarantees than even the most promising startup. It implies you should think over your job advert or consider staff augmentation (an extended team model) instead of hiring full-time personnel.
When you opt to hire outsourced software developers, another challenge comes out: finding the agencies that will fit the needs of a particular startup and have proven expertise in working with MVPs in a certain industry.
New team roles
Beginner entrepreneurs often fail to build an efficient team, although they hire software developers with the relevant experience for the future project role. One of the reasons is the limited budget: when a startup struggles from the lack of funds, it's forced to distribute all required roles between several employees. This often leads to a suboptimal division of workflows, when specialists distract on various tasks and fail to perform their core duties.
When a startup hiring process is aimed at introducing new team roles, the primary challenge is to determine what particular specialists are lacking at the moment and what positions are the top priority.
Demand for additional management of an extended team
An extended team model can imply hiring an additional software development team to delegate some development or supporting tasks to them. Such tasks might be related to app maintenance, development support, or even tech support. This solution is different from a traditional outsourcing model, where you entrust the whole development work to a third-party team. Instead, your existing team is extended by more skills and talents, and both parties share the tasks.
Although a team extension from a service provider is a ready solution and doesn't require hunting, hiring, and onboarding specialists, seamless communication between the core and extended personnel is still required. Thus, the management process might become challenging, especially when you opt for remote developers. Language and culture barriers and the lack of management expertise in the core team significantly impact the workflows and slow down operations.
Lack of local talents\skills
Despite the issues we have just mentioned above, off- or nearshoring often becomes the most appropriate solution. The lack of local tech talent is critical for most developed countries. Finding top-notch IT specialists is challenging for startups and growing businesses, resulting in high demand for offshore developers and dedicated development teams. Besides, offshore development teams usually allow to significantly cut costs.
Still, hiring remote foreign specialists might result in new challenges: even with an outsourced or extended team, you still need to manage and control its performance. Although the Covid-19 pandemics proved that remote control is not such a significant issue as it used to be before, such factors as time, language, and culture differences might impact the whole communication quality if the partner was not chosen properly.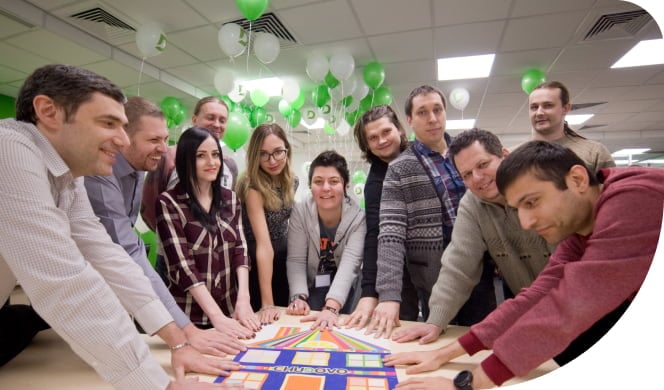 English and German
speaking engineers
What to look for in developers/team
When hiring talents for your project or seeking a competent remote company to scale your core team, what should you focus on? The numbers of years of proven experience matter but are not always critical. The relevant expertise in similar projects and particular extra services that your development partners offer might mean much more. So what are the additional details you should consider before making a final decision?
Ready for dedication
When a startup needs to launch an MVP, and the owners lack tech expertise, the dedicated team model might become the optimal solution. This approach to outsourcing implies that a startup doesn't simply hire an agency and gives it particular tech tasks, defining some deadlines.
Instead, a dedicated team immerses itself in the project and deeply understands the customer's business goals. It focuses on a particular customer and their needs, not juggling between tasks from several clients. Besides, scaling with dedicated developers ensures transparent workflows and seamless communication between developers and a startup.
Experience in projects launch
When you look for an experienced in-house developer or an already assembled team, mind their area of experience. It's essential to find specialists who know the nuances of working with startups and MVPs in your industry. Such an approach ensures a smooth development process and usually guarantees to implement the most efficient solutions within your budget.
This step might become especially crucial when a startup doesn't have tech specialists in its core team. Whatever model you choose, be it an outsource, offshore, or an in-house local team, your partners should know how to transform business ideas into particular technical requirements and implement them to meet the startup demands.
Business Analysis capabilities – requirements development
Startup owners don't always need to be aware of every technical detail behind the product development. In most cases, it is enough to ensure that a team has the right specialist who can mediate between a business owner and a tech team to maintain transparent communication at every stage of the product life cycle.
In simple words, you should consider hiring a business analyst who will control the requirements development process, check if the team always applies the best suitable solutions, and facilitate understanding between all project participants.
Talent selection process
Recruitment specialists usually recommend sticking to traditional approaches: when you require a new employee, you must make sure they have relevant education, proven experience, and particular soft skills. To succeed in identifying the right people for a project, startup owners should determine what they need to see in a future candidate before publishing a job description or making a direct offer.
It might be helpful to get partial or full assistance from an experienced HR manager: they may give some insights on the hiring process and offer help with a job advert that will attract qualified candidates.
When you decide to scale your personnel using ready solutions like an extended team or outsourcing, be aware of your prospective partner's experience. It's usually helpful to check the company's portfolio: has it already worked with similar tasks? Does it have enough expertise in launching a product like yours? Besides, don't forget to search for relevant customer feedback.
Tips for startups to hire expert software developers
Now that you know the talents and skills you need to scale your team, make an overview of your project, its goals, and the tools it requires. It will help establish a well-managed recruitment plan.
Define primary dev stack and needs
We mentioned that a developers' team must have relevant experience. To make sure you are on the right track, check if you are fully aware of what your project is about. In other words, you must have an idea of the tools and expertise that will best fit your needs before you hire software developers. Choosing the right technology or their combination will significantly facilitate future development, marketing, and maintenance workflows and allow to find talents with experience in similar projects and expertise in specific tools and frameworks.
Determine project stages and goals for each of them
As a startup owner, you know what you want to achieve and have a business plan on hand. However, it's also essential to sync your goals with your in-house or outsourced software development team. It usually makes sense to take some time for a thorough discussion with developers to understand how they will work on your project and how you can track and measure results.
On top of that, such a discussion usually helps to determine the best suitable approach. For instance, it's often preferable to work in short sprints when developing an MVP. Suppose your core team uses different frameworks, or a remote dedicated team manager recommends you opt for some alternative development methodology. It is a subject of discussion as there is no one-size-fits-all solution, but whatever system you choose, you must be fully aware of how you will control every stage and if the project remains agile.
Clarify the team growth track
As your startup grows, you may require new talents. Still, recruiting new personnel or considering a team extension solution must be an elaborate strategy instead of hiring staff without a particular system — just anytime you feel the need for new talents. Before you think of any expansion plans, analyze the current team and how smooth are the internal workflows. Sometimes, there is no urgent need to expand, and redistributing the roles makes a more significant difference.
To determine if a startup needs scaling, it's recommended to measure various performance metrics of every team member. These metrics vary from the most straightforward ones, like productive hours, story points developed per period, and the overall work quality, to efficiency, ability to communicate with the other team members, and motivation. Regular monitoring of employees' metrics helps determine the strongest and weakest specialists and provides managers with some hints at a team reshuffle.
Find a reliable partner with startups development experience
Finding an experienced developer or a software development team is essential, but sometimes it's not enough for boosting an MVP. As an entrepreneur, you have an idea of a product and how it must work, but the technical process details might remain challenging.
In a perfect scenario, a development partner will take responsibility for requirements development, continuous project analysis, selection of the optimal tech solutions, development stages determination, release dates, and future development planning. As a result, you will receive a high-quality product built within the shortest possible time and ready for post-release updates.
Conclusion
A considerable percentage of startups fail due to the lack of experience and expertise or poor management in their development teams. When the project is at its earliest stages, the importance of the seamless core team extension is often underrated but results in severe issues later. Staying at the core of all business operations, founders should not neglect the importance of the development team extension.
The right choice of the custom software development partner might cause a significant efficiency boost: from successful development at particular separate stages of the startup life cycle to the whole startup tech side implementation. Such collaboration allows entrepreneurs to keep focused on product planning and business development and avoid a plethora of common pitfalls.
Are you excited about taking the next big step to turn your idea into the MVP? Reach out to us, let's discuss your thoughts and requirements, and take your startup to the market leaders!
Talk to us
Let's talk about your project!
We will contact you as soon as possible