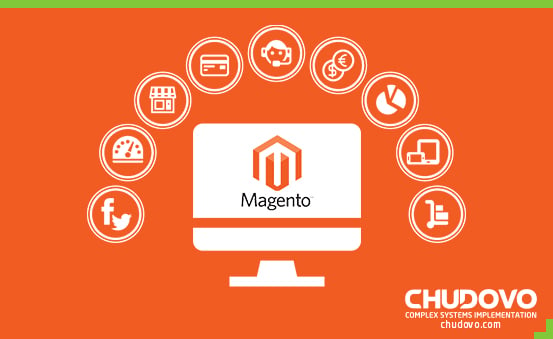 Why Is Magento Platform Popular For Ecommerce Websites?
E-commerce has been changing how we shop and do business with incredible speed and methods. Simply put, it refers to the activity of buying and selling goods or services via the web. eCommerce stores are akin to online markets selling those goods or services at predetermined prices, which are moved by a motive to attract customers. Any sort of business having a purpose of selling their goods or services will require an eCommerce store. In their most basic form, eCommerce stores started operating about 40 years ago. Michael Aldrich invented the art of online transactions between consumers and businesses, which later was called eCommerce. In addition to this, eCommerce has also helped us create a wide gamut of channels for conducting a transaction. This includes;
Business to Customer (B2C)
Business to Business (B2B)
Customer to Customer (C2C)
Customer to Business (C2B)
Business to Administration (B2A)
Customer to Administration (C2A)
Today we have come a long way from the invention of eCommerce to a stage where buying things online has become an immersive, customized, and high-impact process. In this, platforms like Magento further improve the way to create, manage, and scale online stores.
In this article, we will talk about Magento and how it has become a popular platform to build eCommerce websites.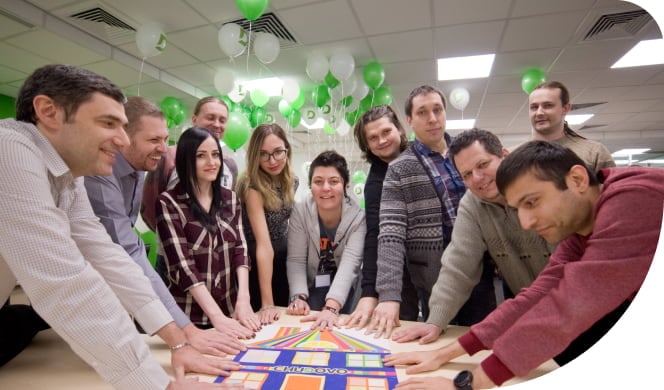 Looking for a new challenge?
Magento Market Share in 2021
To understand the growth of a platform, we need to study its past and present. About Magento, we will look at its market share and presence from different sources as well as for different timelines to give you a better idea of its growth, potential, and scope.
Starting with W3Techs;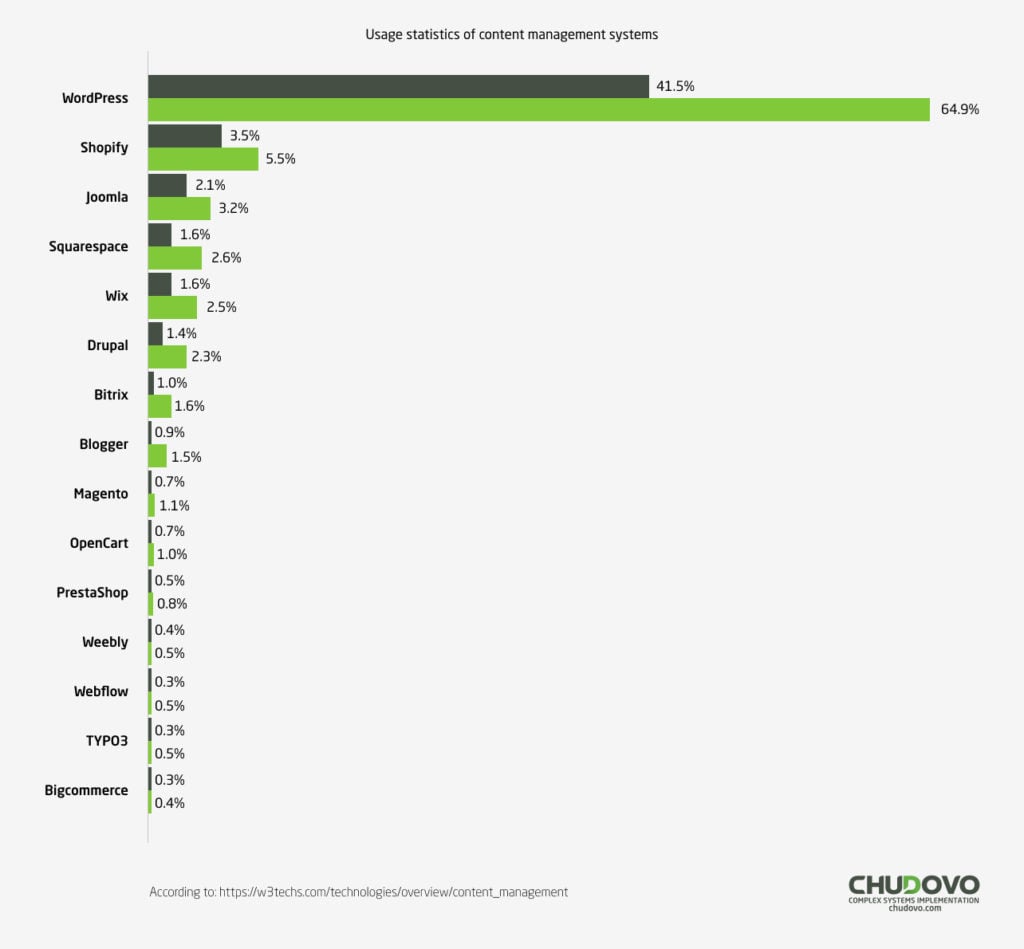 As of May 2021, Magento's market share is 1.1%. It is way below the top-performing content management system (CMS), WordPress, which has a share of 64.9%. However, comparing Magento's previous year's numbers with the current, we have seen growth in its adoption.
Have a look at the table below;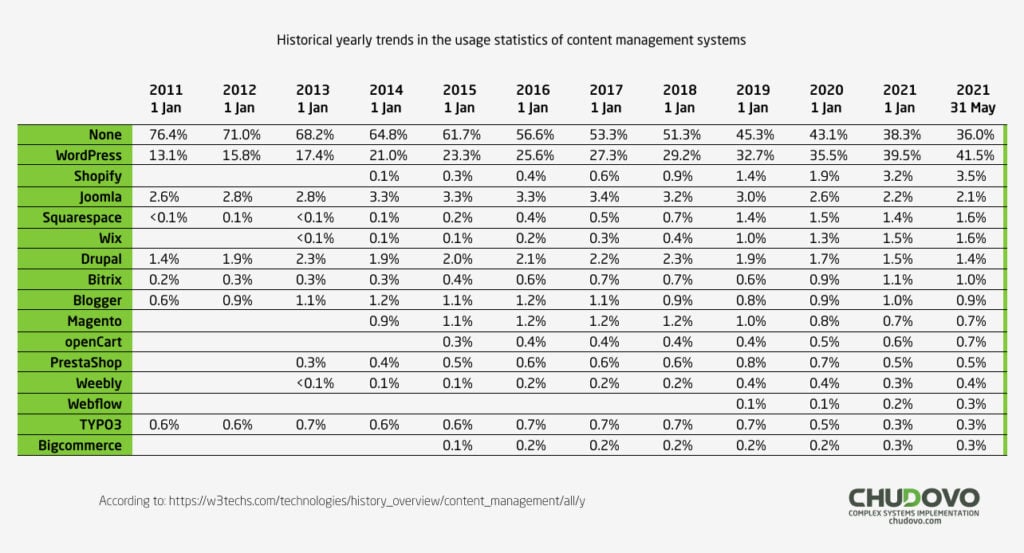 If you would notice, Magento is showing a growth path after 2020. Even though the market share in January 2021 is 0.7%, we have the latest figure in the graph above, which shows Magento eCommerce market share increased to 1.1%.
This data has been collected on the basis of some facts, primarily, who use Magento or the number of Magento sites currently live.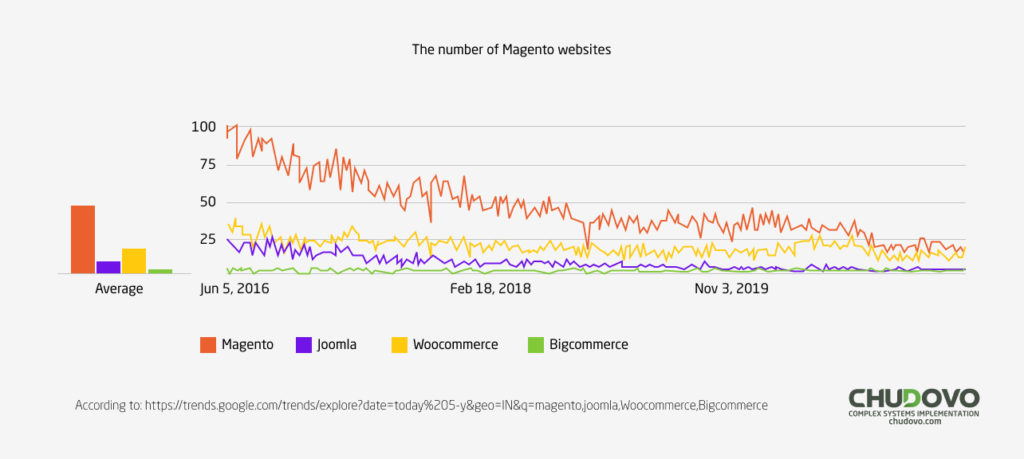 We have not included names like WordPress or Shopify in the trends watch to conduct a fair analysis. As you can see in the chart above, Magento has the highest search relevance in the past five years. Even though its search frequency average has decreased, Magento still fares above its counterparts. Not to mention that all the other eCommerce platform enablers have also seen a downtrend. This graph also shows Magento's popularity against others in the same business. Comparing the Google Trends graph with the W3Techs, we can see that the search intensity of Magento eCommerce is more, but the actual Magento market share is less than Joomla. This can mean that even though people are searching for Magento on a higher scale, they are choosing to work with the likes of Joomla, SquareSpace, Wix, Drupal, etc. One of the reasons can be that Magento focuses primarily on the eCommerce side, but other ecommerce platforms like Magento are also capable of building other forms of online channels.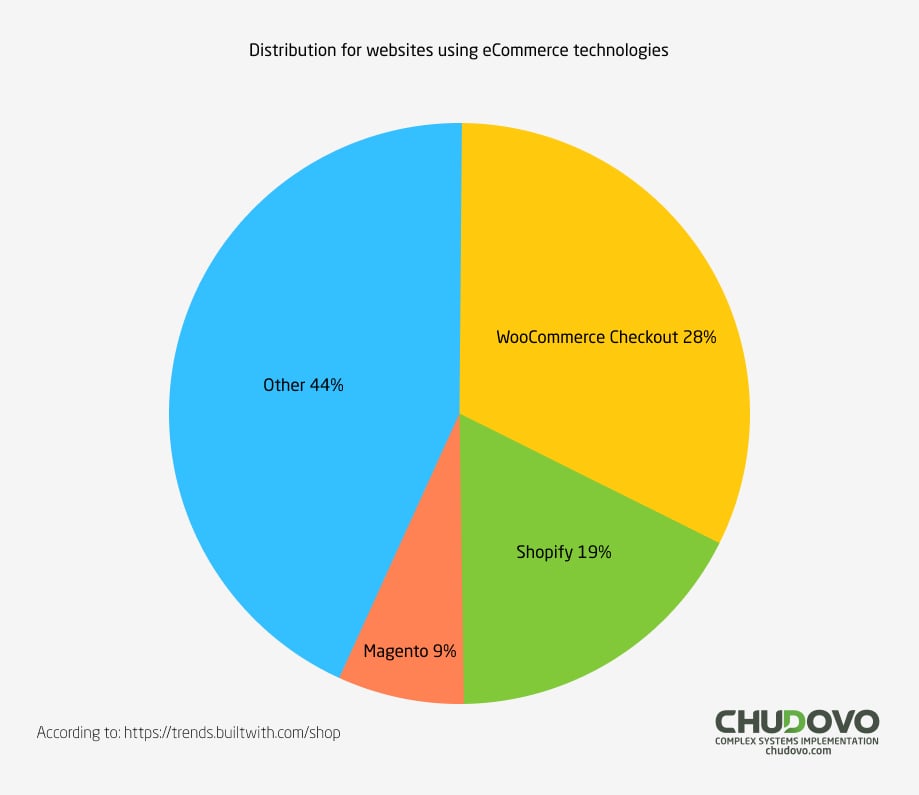 The pie chart above shows the share of Magento sites in the top 1 million websites. It is quite interesting to see that even though the cumulative market share of Magento is less than the likes of Joomla, Wix, or Squarespace, but when it comes to managing data-intensive platforms, Magento is among the top three choices after WooCommerce and Shopify. This is an interesting example of Magento popularity and how people are building their Magento marketplace, with a better scope to scale and grow it on-demand. After identifying the global market share of the Magento marketplace and the trends revolving around top Magento sites, let's move to understand the country-wise insights about the Magento eCommerce builder.
Magento Popularity In Different Countries
With the eCommerce businesses supposed to turn into a trillion-dollar industry, we observe almost every country putting forward their best foot to join this industry. Yes, the developed nations are the top performers here too. Still, the developing nations with a considerable market size like India and China are also not behind.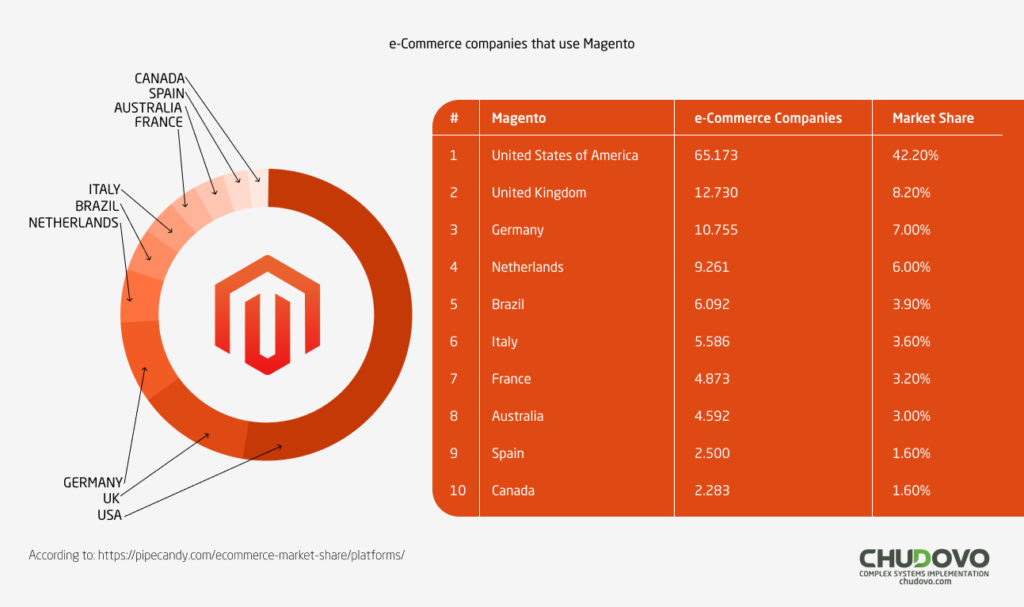 The chart above puts the US on top of the list, stating countries where businesses are using the eCommerce Magento to build their online stores.
USA
In the USA, Magento has a market share of $240 billion and the number of stores crossing 150,000. In these, 0.3% of the Magento sites are generating more than $100 million in revenue and more than 27% earning greater than $500,000. Among the top stores, Puma, H&M, and the likes of Uniqlo have the best Magento websites and creating history with their transactions.
Germany
Magento partners with over 27% in Germany that includes names like Ludwig Beck and WMF. Since Germany is one of the largest economies in Europe and with an expected CAGR of 11% between 2019 to 2023 and a business to consumer value of €94 billion. Since the numbers are showing exemplary growth in the market, we can only expect the market share of those who use Magento to increase.
Similarly, we have the potential to grow and scale eCommerce businesses in the UK. In the UK, WooCommerce has taken the lead, and Magento takes the second spot. The majority of activity by Magento is concentrated in the European part of the world and countries including Italy, the Netherlands, France, etc.
What Industry Challenges Does Magento eCommerce Resolve?
As per a report by Gartner discussing the magical quadrant of digital commerce, Magento proved to be a leader in the segment.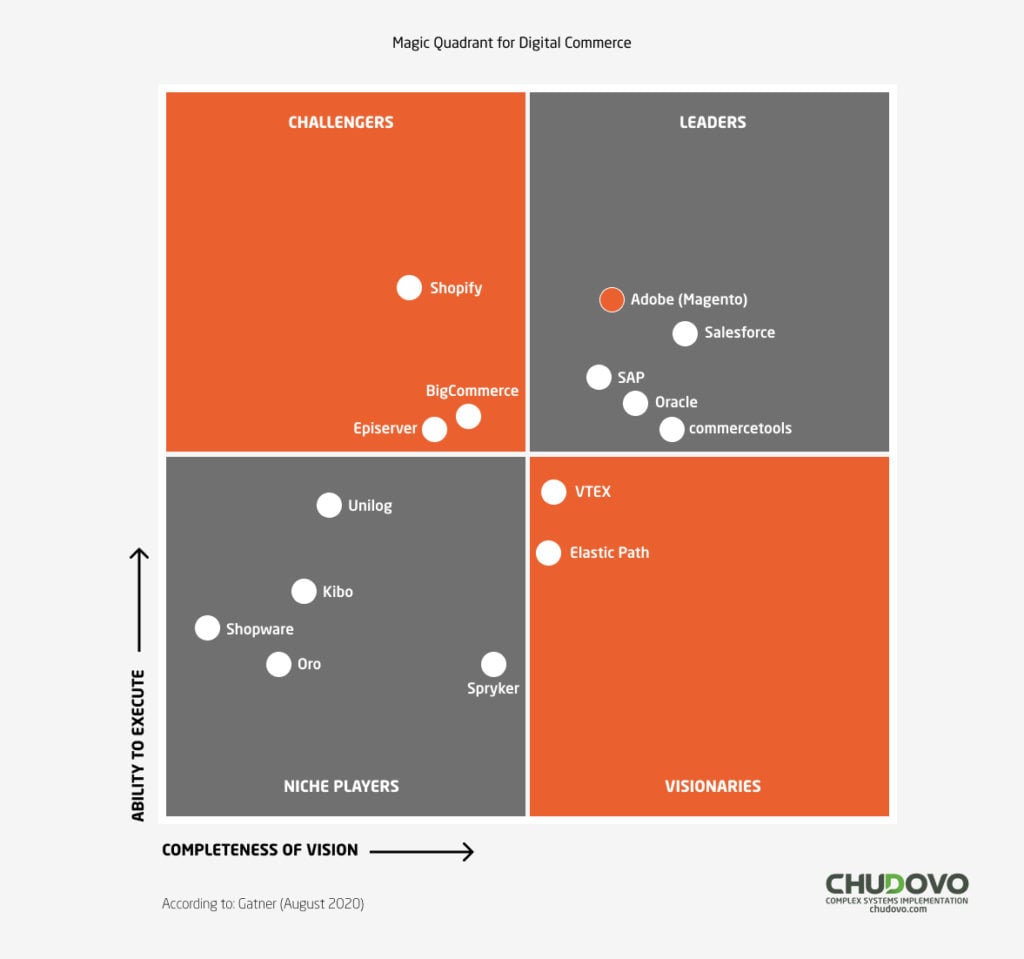 Magento was the leader of the magic quadrant in digital commerce in the previous report too. Now, if you will notice, there are four components of the quadrant;
Niche Players
Challengers
Leaders
Visionaries
Magento has come across a leader after taking a cumulative view of the quadrant. However, Magento's popularity is not built in a vacuum; several reasons behind it give Magento platforms the ability to face industry-wide challenges and overcome them.
Mid-size stemming from a wide gamut of industries can leverage the robust infrastructure provided by Magento, and its ability to deliver a customized solution will find this eCommerce store builder profitable.
Access to a Global Market: The ability to cater to a global market is primary to an eCommerce store. However, inability to expand operations at a global level via a platform that has regional operational capacity. This can become a challenge, but Magento has the ability and the infrastructure to facilitate your eCommerce store's global expansion. Magento has worked extensively on building its solution to ensure that it sustains and promotes global expansion along with building a network of Magento partners. The mid-size and enterprise businesses working with Magento get access to best-in-breed solutions giving the organization's the ability to scale and create an agile business.
Scope to Grow: Businesses choose Magento for a myriad of reasons, and one of those is creating an adept Magento marketplace. Magento eCommerce solution lets you create a marketplace with drag and drop functionality. Along with this, you will get the ability to work on order management, shipping, and analytics for a better outcome. If not for Magento, businesses will have to hire a dedicated team of developers and designers to write the code for the store. But with Magento eCommerce, anyone can start building their store without spending a fortune on hiring a development and design team. More than this, it also provides hosting, maintenance, and scalability solutions built within the interface.
Navigating the Complex B2C Structure: Working with Magento gives you another stream of possibilities coming from Adobe. Adobe already has a global presence and Magento, being its product, gets a fair share of market expertise, and popularity, not to mention the experience Adobe brings to the table. One of the areas where Adobe's experience proved to be useful is understanding the B2C structure. Magento leverages a digital leading experience (DXP) platform via Adobe Experience manager, and all the Magento sites stand to gain from a suite of different market-related services.
Managing the Business: Running a business is easier said than done, but if you add the online part, things get even more complex. For sure, you have a ton of market and a whole lot of potential to uncover, but everything brings its own challenges. In the end, you may feel overwhelmed with all sorts of turning wheels and changing the gears. Some of the best Magento websites have benefited from the platform's ability to provide business process integration. Having such a system onboard translates to numerous business management capabilities provided by multiple plugins and extensions. All these plugins and extensions are added with a particular purpose aimed at enhancing the eCommerce Magento store functionalities. There are plugins available to fulfill every aspect of the business, giving you the ability to get the best aspects of business process integration.
Getting it Right with the Customers: Many times, eCommerce stores fail because they do not target the right audience. Since every product is unique, it also has a specific target audience looking to buy or use that product. Businesses that fail to realize this and do not work on addressing their specific audience end up with cash-burning marketing strategies leading to an eventual shutdown. The Magento platforms get access to the required features and functions meant to help them create customer personas and segment their customers for effective targeting. Better targeting means you can easily convert the leads and turn them into regular customers.
Payment Issues: We are not talking about global stores like Amazon here. But creating eCommerce sites with drag and drop functionality is a cost-effective option. At times, to save on money, we might have to compromise on some features, one of them being the payment gateways. eCommerce stores that do not have a customer-preferred payment system may have to deal with cart abandonment issues. However, Magento sites are given the option to add multiple payment gateways from a list of 25 approved payment options.
Optimizing the Platform: A website or an online store built with coded modules has the best chance of performing in the web world as it makes everything easier, from working on SEO to creating a responsive website. All of this sounds great, but for a startup or a mid-size business, this also means spending money on hiring dedicated developers and working on these aspects. Companies using Magento get inbuilt functions to optimize the platform and deliver the best customer experience provided by its white hat SEO functions.
Top Websites using Magento for Ecommerce
There are a lot of examples we can cite here to help you understand the potential of making Magento websites. While jotting down every website is out of the scope of this article, we will list down some of the popular names in the industry.
Ford: Yes, Ford is using Magento to manage the website operations as well as run its online store segment since 2012. As a brand, Ford has a global presence, and this only shows the potential of Magento in terms of scalability, maintenance, and optimization.
Nike: Another global brand harnessing the capabilities of Magento eCommerce stores, helping its customers browse and shop for products. And if it is Nike, you can imagine the scale of operations and the extent of data processing.
Warby Parker: Warby Parker is a $250 million online glasses store known for its ease of usability and accessibility. The eyewear market is highly specific, and it requires the users to go through various frame designs and glasses to get the frame they want. Added to this, a few other aspects like selecting the glass type, adding the dimensions, and the prescription for everything. Warby Parker is one of the best Magento platforms that helps the business create efficient user engagement and a unique approach to building and managing operations.
Conclusion
There is a lot to say and discuss about Magento eCommerce that has in-built SEO capabilities, editable templates, themes, and an intelligent assortment of plugins. All of these additions make Magento super easy to use and enhance the circle of possibilities.
We can safely say that a Magento website is advantageous from several aspects, including creating customer-centric platforms, building engaging terminals, and providing solutions to complex business management issues. When we build your eCommerce store with Magento, we do that with all the experience and deep-set knowledge to make sure that your online store hits it off instantly. If you also want this, let us know and we will get cracking.
Talk to us
Let's talk about your project!
We will contact you as soon as possible