How much does an e-commerce website development cost?
A modern e-commerce site should not be only about displaying goods or services for an online presence. It should meet both business and customer needs with smooth user journeys, intuitive design, and convenient management tools to generate large revenues. Building such a website involves many components that affect the overall development, promotion, and further maintenance budget.
This guide will help you understand what you need to consider to determine the best suitable and affordable solution for your online e-commerce site.
What affects development price?
On average, an e-commerce site development price may vary a lot. Opening your online store might cost as little as $100, or require investing approximately $30,000 or even more. What makes one project cheaper and the others time and money-consuming?
Here are the main things you need to consider when planning your development budget:
Your business size and goals. Are you a startup requiring an MVP, a small developing business, an offline shop that needs an online store version, a large marketplace, or a stable developed enterprise?
E-commerce development platforms. Will you use enterprise-scale platforms with paid licenses or opt for free open-source platforms or SaaS solutions?
What features and customization do you need to add to your site?
Development options. Are you going to hire an in-house development staff, search for freelance talents, or work with an outsource development team?
Besides, maintaining an e-commerce site involves regular investments, not included in the development price. They may not make the most of the overall costs, and you can avoid some if you use out-of-the-box solutions, but still, you can't ignore them in your cost sheet. Here is what you need to include in the budget plan:
Domain Name;
Hosting;
SSL certificate;
Payment processing costs;
Add-ons and extensions development;
Maintenance;
SEO and digital promotion.
Determine your business size and your goals
You don't always need the most expensive solution to achieve the desired result: sometimes, a minimum investment is enough. Depending on your project's nature, your can opt for the complicated development requiring a team of skilled specialists, or build a site yourself using ready tools for e-commerce. Let's consider available solutions for various purposes.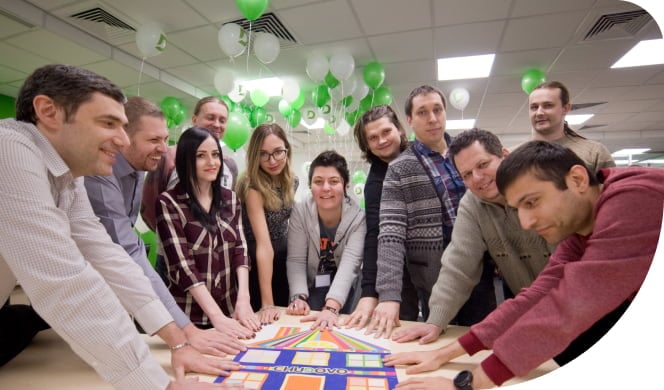 English and German
speaking engineers
A startup or a small business with a limited budget
When you want to launch the very first version of an e-commerce platform and show it to investors or decide to sell a small range of your goods via the Internet, you can opt for SaaS e-commerce platforms. In this case, you won't need to pay for hosting and any development services: SaaS platforms provide you with their own hosting service, include SSL certificates in the subscription price, and allow you to create and customize your store using built-in tools. The most popular SaaS e-commerce platforms are:
Shopify: a $29 basic monthly plan;
BigCommerce: a $30 basic monthly plan.
A developed middle-sized business
Although SaaS platforms are quick and easy to deploy and provide you with hosting and maintenance, they lack flexibility, which might be crucial when you feel your business is ready for scaling. When you are on a budget but need a custom solution, consider free editions of the Open Source eCommerce platforms.
Such a solution implies extra expenses on development services (for instance, a basic Magento site with a simple CMS might cost from $20,000 to $40,000) but allows creating a platform that will stand out and meet all the business needs. The most used open-source e-commerce platforms are:
Magento Open Source edition.
WooCommerce, a WordPress plugin for eCommerce;
A larger-scale business
When you need to launch a large e-commerce website with advanced functionality and management tools, free open-source platforms or basic SaaS solutions are not enough. To go beyond out-of-the-box features and enable maximum customization and flexibility, consider the enterprise e-commerce platforms, for instance:
Magento 2 Commerce Cloud Edition: pricing starts from $40,000 for customers generating less than $1,000,000 revenues; the maximum price plan is $190,000 per year.
Shopify Plus: $2,000/month plan;
BigCommerce Enterprise: pricing upon request; rates depend on overall sales revenues;
All the mentioned platforms imply working with experienced developers who know how to get the most out of their opportunities. Such opportunities involve third-party and back-office integrations, unlimited customization, extended features, and more. For instance, the development of such a website using Magento might cost from $40,000 to $100,000, not including the license plan costs.
Consider the additional cost components
Once you determine what solution will best fit your needs and get an idea of a pricing plan, you need to add the other costs inevitable for launching and promoting a site. In short, you need to choose the hosting package, ensure your platform's security, and enable online payments for your customers.
Hosting and domain name
When you opt for a SaaS solution, hosting is already included in your plan price. However, when you develop an online store from scratch using Magento or other e-commerce platforms, you need a company that will host your site.
Prices for hosting services mainly depend on your site's traffic. A small business can purchase a cheaper hosting with average traffic capacities; it might cost from $3 to $200 per month. A large enterprise with thousands of daily visitors must be prepared to pay approximately $1,000 per month to ensure smooth website performance even during peak hours.
A domain name costs from $10 to $20 per year; you can purchase and register your domain name through your SaaS platform or opt for a domain registrar like GoDaddy.
SSL certificate
The price of an SSL certificate varies depending on its validation. To ensure a high level of customer data protection, it's recommended to opt for the extended or organization validation certificates, at annual costs from $200 to $1,000.
Payment processing costs
Obviously, an e-commerce site must accept online payments, so integrating various banking systems is an essential step. Basically, SaaS or open-source platforms don't charge any fixed fees for adding any payment options but may require a certain fee for every transaction made on your site. Let's compare the costs at the most popular e-commerce platforms:
BigCommerce. With more than sixty international payment gateways, BigCommerce allows you to expand your services globally. It doesn't charge any fees for using any gateways but the Braintree, which implies a 2,05% — 2,35% commission per transaction plus an extra fee of $0,49.
Magento 2. You can integrate various third-party gateways into your Magento store, and the rates will depend on what you choose. For instance, if you opt for PayPal, Braintree, or Authorize.net you will need to pay 2.9% + $0.30 for every transaction.
Customizations development
When you need to add some new features to your website or to enable various customizations, your expenses might not only include the development price. For instance, if you want to add a Magento affiliate marketing extension, you will need to pay an extra $99, while the Magento blog extension is free.
Integration
In most cases, growing online stores need to integrate their websites with third-party platforms, for instance, ERPs or various CRMs. A seamless integration includes development services that vary from $25 to $200 per hour and sometimes a subscription price — for example, NetSuite SmartConnector by Celigo annual plan costs from $3,000.
Site maintenance
Once the site is developed, it needs constant maintenance: fixing arising issues, implementing updates, adding new features, etc. Large businesses usually opt for hiring an in-house development team fully aware of all the internal workflows and capable of dealing with urgent requests. Maintaining such a team might cost from an annual $60,000 per employer or more; to reduce costs, you can opt for an offshore in-house team or an outsourced specialist that might turn out to be more than twice cheaper.
If you select SaaS solutions for your website, the maintenance will be included in your monthly or annual plan.
Think about the development options
While the simplest basic SaaS models allow anyone to launch an online store within a couple of days, a complex solution with advanced customization, add-ons, and extra features requires hiring a developer with proven expertise in the eCommerce industry. The development rates vary pretty much depending on how you are going to organize the process and where you will search for talents.
In-house team
Building an onsite team usually implies your business is large and wealthy enough to maintain developers requiring an annual salary of $60,000 and more. For instance, if you decide to build a Magento-based eCommerce site, a single in-house front-end or back-end developer from the USA will cost from $100,000 to $170,000 per year.
Besides, you might need to hire HR specialists and equip working spaces unless your team is remote, and have a person in charge of the team management.
Freelance developers
Another solution is to contract with freelancers, which is a much cheaper solution. Thus, a freelance Magento developer might cost approximately $50-$300 per hour, depending on their experience and expertise in working in your particular niche. However, you still need to maintain control of the freelancers' work and enlist help from a tech-savvy manager on your side to select specialists and provide them with technical requirements for your project. Such a solution is usually convenient when you don't need to develop a site from scratch, but want to implement some add-ons or partial customization.
Outsource and offshore development
Working with a ready developers team is not only time saving, but can significantly cut costs. Instead of hiring and onboarding certified talents, you can rely on a dedicated team with well-established workflows and proven expertise in building, integrating, and customizing e-commerce sites — and all that at lower rates than implied by having an in-house team.
You might save even more if you opt for an offshore dedicated team: for instance, a Magento developer in Ukraine costs from $25-$60 per hour — compare it with US employees charging from $60 or more. At the same time, the talents level and their expertise is not at all worse, so hiring an offshore team might become an optimal price/quality ratio.
Post-development stage: promotion of your platform
Suppose you successfully launched your e-commerce website, what's next? It won't work just the way it is, so your next investments will be related to the site's content and promotion on the web. Some entrepreneurs, especially when their small businesses are on a budget prefer taking copywriters, SEO specialists, and marketers roles themselves, but opting for third-party services is usually more efficient, although implies extra expenses.
Content
Ecommerce site content involves product description copies, persuasive headlines, promo offers, and many more. Like developers, freelance copywriters might charge hourly rates (prices start from $25 per hour for an English speaking author), fix a rate per word (from $0,02 to $1), or offer a turnkey solution and take responsibility for the whole content project (prices may vary from $25 to $10,000 or more per page).
Besides, if you are determined to constantly promote your site through the written content and considering a blog section, email marketing strategies, or outreach articles, a copywriter or a digital agency will become your regular category of costs, which may vary from $1,000 to $50,000 per month.
SEO
Making your site visible for search engines is essential, so be ready to pay from $500 per month for hust initial efforts and up to 10000 or competitive niches. The rates depend on your business size and talents availability: there are a plethora of specialists successfully dealing with small websites, while SEO teams with enterprise-scale expertise are quite a rarity.
Advertising
An advertising strategy might include all types of ads: paid search, influencer marketing, TV ads, and more. Thus, your expenses might be unlimited depending on the promotion ways offered by your marketing specialist, whose hourly pay is approximately $30.
Final words
It becomes pretty evident that a precise quote depends on many factors: from the solution you choose to the developers' experience and expertise. The more customizations and integrations you need, the heavier traffic you receive, and the more complex your store is, the higher your investment will be.
If you want to know more about how you can take your business to the next level with modern e-commerce website seamlessly, feel free to contact us for a consultation.
Talk to us
Let's talk about your project!
We will contact you as soon as possible